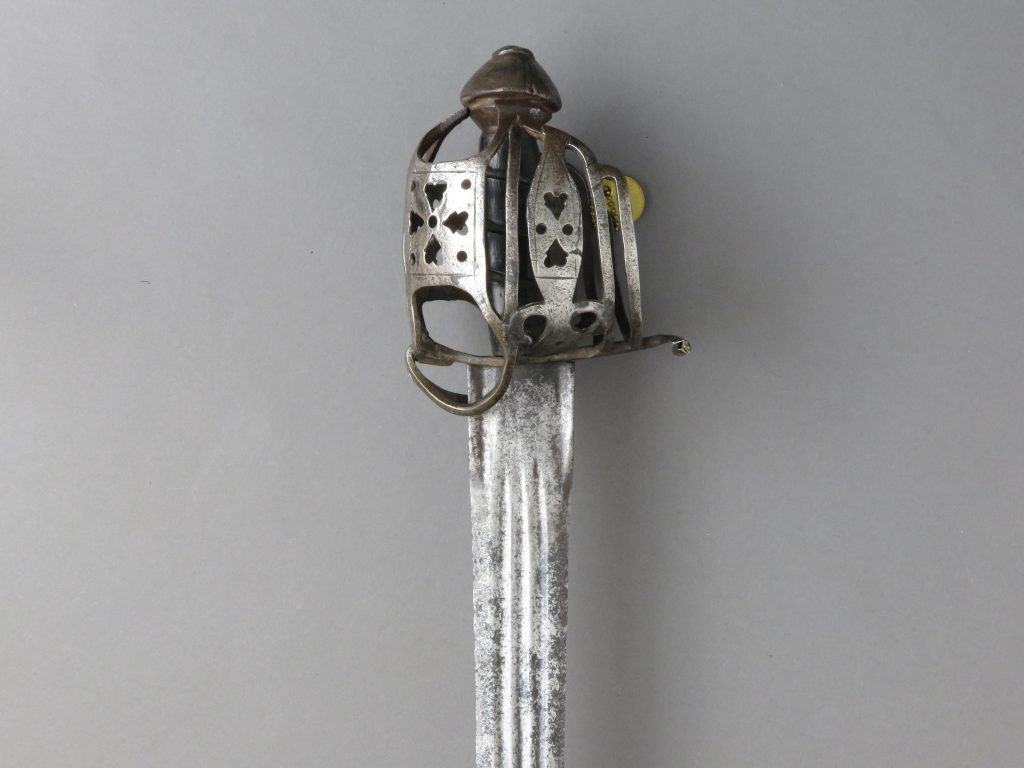 Scottish Basket Hilted Broad Sword dating to circa 1725 to 1740
To enquire about this item
please click here
Price: £3,550
Ref: 026.20
Item Description
An interesting and imposing Scottish basket hilted broad sword dating to the second quarter of the 18th century. The earlier 17th century double-edged blade is of broad type with a triple fuller on each side. The sword is solid, firm and well balanced in hand.
The basket guard is formed from flattened rectangular section bars. Between these are attached the main and secondary guard panels which are decorated with lines and cut with hearts and circles. The cone-shaped pommel has a broad flat button on top and is decorated with three sets of triple grooves which radiate from it. The arms of the basket guard fit into a pronounced chiselled groove which extends for the full circumference of the pommel just below its middle. The pommel has the number 36, probably an armoury / inventory number, incised at the back. The wooden grip is spirally grooved.
The impressive double edged tapering blade has a pronounced ricasso with wide grooves extending from the hilt next to the blunt edges on each side. Three pronounced fullers extend along the middle of the blade commencing at the ricasso terminal for circa 6.5 inches (16.5 cm) each side after which an orb and cross mark is incised also on each side. These were originally filled with latten of which a small portion in one of the marks remains. The fullers show evidence of further marks now indistinct. The blade length is 30.25 inches (77 cm) and overall the length of the sword is 36 inches (91.5 cm) long. As the photographs show, the sword is worn and somewhat pitted with age-blackened pockets all over.
Swords with similar hilts and blades are illustrated in Cyril Mazansky's "British Basket-Hilted Swords", Boydell Press, 2005. 
Provenance: Ex-Arnold Rothschild Collection, Baltimore, collection tag number 173.