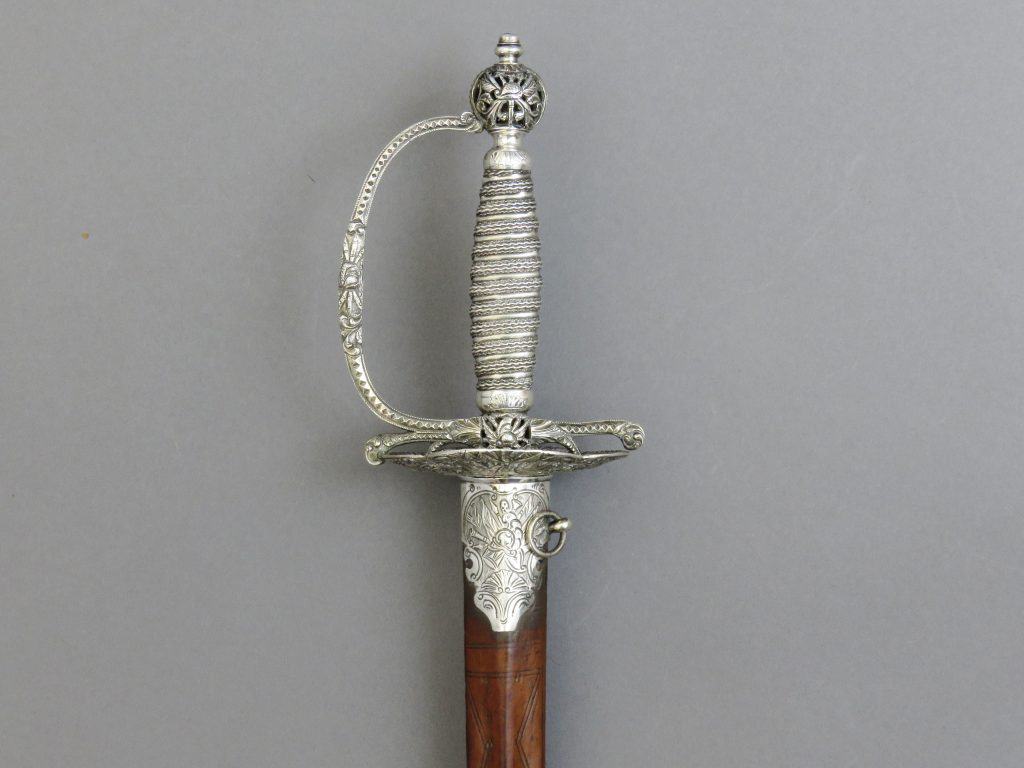 English Silver Hilted Small Sword by William Kinman Hallmarked for 1759/60
To enquire about this item
please click here
Price: £2,600
Ref: 047.20
Item Description
A very fine English silver hilted small sword with hallmarks for 1759/60. The silversmith is William Kinman, one of the finest makers of silver hilted swords working in London in the second half of the 18th century. Silver hilted small swords were fashionable attire for 18th century gentlemen, and despite the stylish delicate construction were formidable duelling weapons.
The hilt consists of a shallow dish guard, pas d'ane rings, knucklebow, front and rear quillons plus an ovoid pommel. The hilt parts are exquisitely engraved and pierced with intricate patterns of scrolls, martial trophies and stands of arms, indicating that the sword was a side arm for a military officer.
The tapering, hollow ground, stiff, colichemarde, triangular section blade is decorated with engraved panels of scrolls and a stylised face on each side near the hilt.  The blade is 32.25 inches (82 cm) long and the overall length of the sword is just over 38.5 inches (98 cm).
The grip consists of alternate bands of flattened and roped silver wire of contrasting thickness mounted onto a wooden baluster shaped core with engraved silver cap terminals top and bottom. The sword retains its original scabbard with its  silver mounts .
William Kinman was one of the most prominent and influential makers of silver hilted swords in London in the 18th century. He was a leading member of the Founder's Company of London and served in all the major offices of the guild including Master. His work represents the highest quality of the silversmiths' craft. He was active in the trade by 1750 and registered his first mark in the Smallworkers' Book at Goldsmiths' Hall in 1759 – "W K" with a pellet between. A second mark was registered by William in 1790 and he is last recorded in 1806. The hiatus of his work is between 1750 and 1790.
For further information see "London Silver-Hilted Swords", their makers, suppliers and allied traders, with directory, by Leslie Southwick, 2001, Royal Armouries, page 159-160 for Kinman's biography and pages 286 – 292,  and colour plates 4, 6 and 8, for examples of his work.
His mark of "W K" in raised relief is stamped inside a rectangular panel on one of the pas d'ane rings with the lion passant next to it. The letter "K" is somewhat mis-struck in the small space available or defaced. The crowned leopard's head mark of the assay office and the date letter stamp are on the other.
The scabbard is formed with a wooden core over which a brown leather  covering has been stitched and decorated with tooled lines and patterns. The mouthpiece is decorated with stands of arms similar to those on the hilt. The scabbard has a repair to its middle area. There are no losses or repairs to the hilt which has maintained its original pleasing outline.  It is rare to encounter swords of this type with original scabbards.