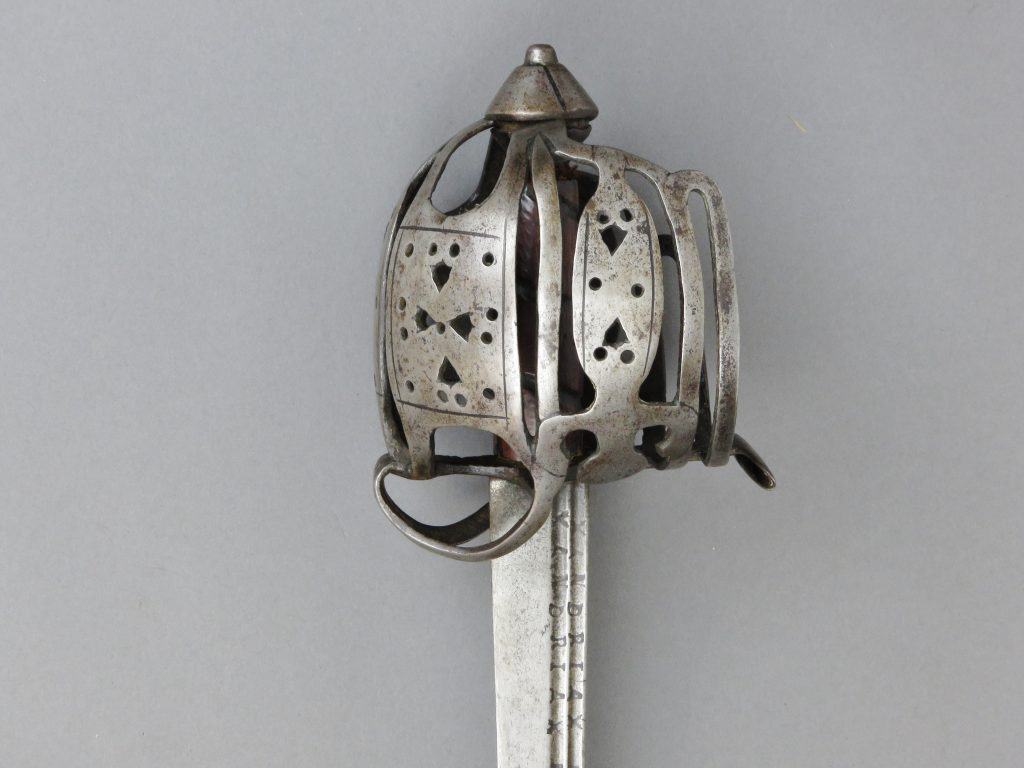 Scottish Basket Hilted Sword dating to the Second Quarter of the 18th Century
To enquire about this item
please click here
Price: £3,750
Ref: 020.20
Item Description
A fine Scottish basket hilted sword manufactured around 1740 in the period preceding the last Jacobite Rebellion of 1745. This is a nicely proportioned example in original condition.
The fully formed basket hilt is manufactured with sturdy, strong,  rectangular section bars. The front panels and side guard plates are pierced with triangles, circles and engraved with border line decoration. The pommel is cone shaped with three incised lines which radiate from the pommel button on top. The three upper arms of the guard are securely tucked into a groove cut around the lower half of the pommel. The sword hilt is tight and secure.
Of tapering back sword form the shoulders of the blade sit in a pronounced groove chiselled into the underneath of the cross guard bar. Two pronounced fullers emanate from the hilt and extend to a short distance from the tip, each incised with the armourer's mark of "ANDRIA FARARA" separated and flanked by "X" marks. The blade is a European import to Scotland and was probably made in Solingen.  The blade has seen use on more than one occasion. Some  nicks to the cutting edge have been filed out over time, especially towards the tip, now smoothed with age.
The spirally grooved baluster shaped grip is of wood which now lacks its original wrapping. The remains of an old red woollen fringe is present between the top of the grip and the pommel  base.
This is a nice quality well balanced sword which handles well and is in fine overall condition, with a consistent patination, and a nice example of its time. The blade is 31.5 inches (80 cm) long and overall  the sword is 37 inches (94 cm) long.