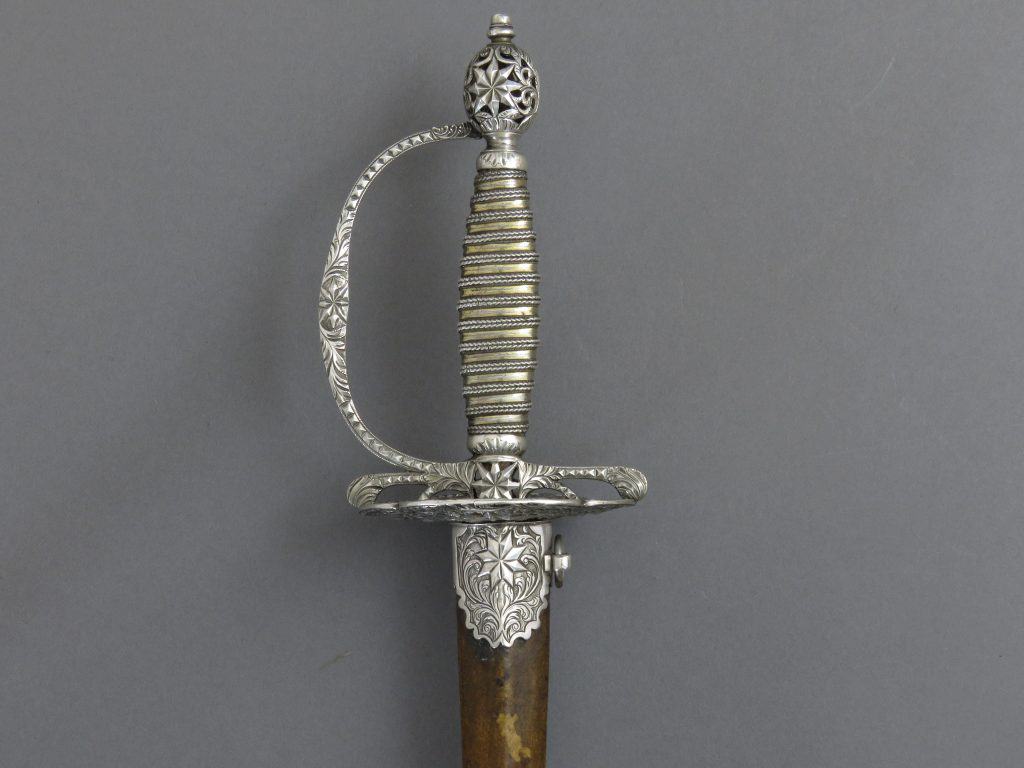 English Silver Hilted Small Sword by John Radborn Hallmarked for 1766/67
To enquire about this item
please click here
Price: £2,700
Ref: 045.20
Item Description
A very fine English silver hilted small sword with London hallmarks for 1766/67. The maker's mark is for John Radborn and the sword was retailed by "LOXHAMS" of "Royal Exchange" in London. Silver hilted small swords were fashionable attire for 18th century gentlemen, and despite the stylish delicacy of construction were formidable duelling weapons.
The hilt consists of a shallow dish guard, pas d'ane rings, knucklebow, front and rear quillons plus an ovoid pommel. The sword retains its original scabbard with its  silver mounts. The hilt parts are exquisitely engraved and pierced with intricate patterns of scrolling foliage.  The feature of a pierced eight pointed star is central to the decorative design, appearing on both sides of the pommel, both sides of the knuckle bow half way along, both sides of the ricasso and in the dish guard either side of the blade. The feature is also present on the outer side of the scabbard mouthpiece, the name of the retailer is engraved onto the plainer inside face. The grip consists of alternate bands of flat and roped silver wire of contrasting thickness mounted onto a wooden baluster shaped core with engraved silver cap terminals top and bottom.
The bright, tapering, hollow ground triangular section blade, is decorated with engraved scrolls separated by a "sun in splendour" on each side near the hilt.  The blade is 32.5  inches ( 82.5 cm) long and the overall length of the sword is just under 39.25 inches (99 cm).
John Radborn was one of the foremost makers of silver hilted swords in London in the mid 18th century and his work represents the highest quality of the silversmiths' craft. He is recorded as active between 1737 and 1780 and worked in New Street Precinct. For further information see "London Silver-Hilted Swords", their makers, suppliers and allied traders, with directory, by Leslie Southwick, 2001, Royal Armouries, page 202 for Radborn's history and pages 284, 288, 290 and Colour Plate 3 for examples of his work. His mark of "J R" in raised relief is stamped inside a rectangular panel on the knuckle bow near the pommel, along with the usual stamps of the crowned leopard's head mark of the assay office, lion passant standard mark and date letter stamp.
The scabbard is formed with a wooden core over which a thin brown leather kidskin covering has been stitched. The chape is engraved in similar style to the scabbard mouthpiece and hilt. Overall the sword and scabbard are of exceptional quality and in fine condition.  There are no losses or repairs and the guard has maintained its original pleasing outline. The blade has some minor age related blackened staining in parts as can be seen in the photos below. It is rare to encounter swords of this type in such fine condition with original scabbards.