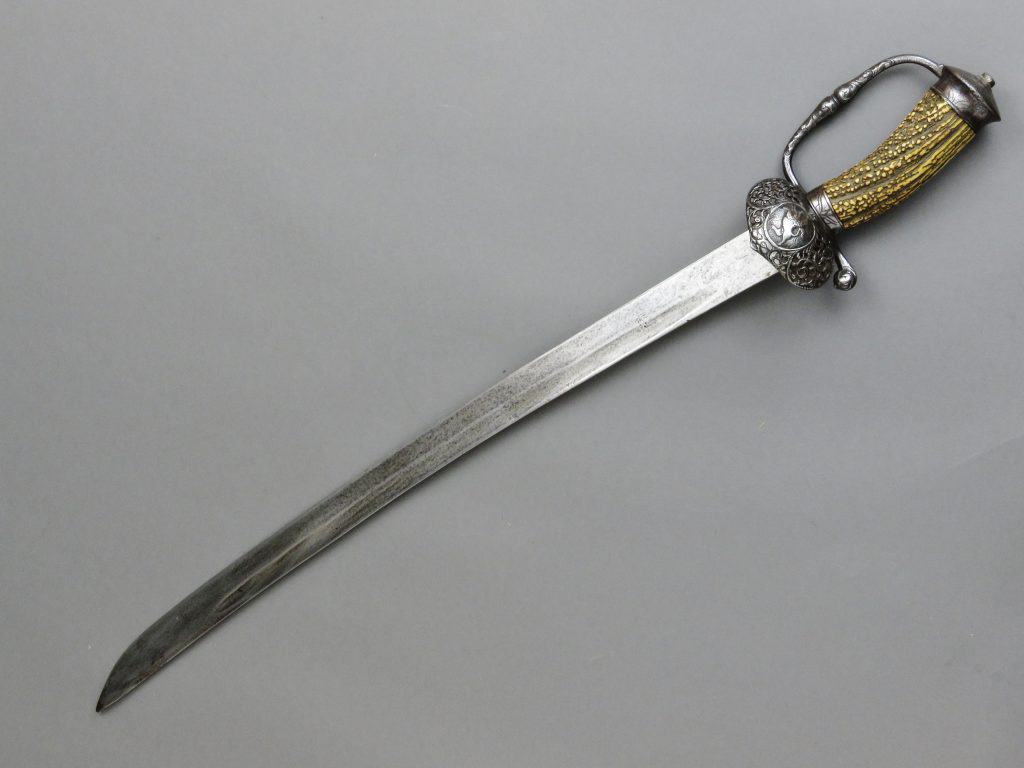 English Civil War Period Pikeman's Hanger
To enquire about this item
please click here
Price: £2,750
Ref: 027.20
Item Description
An attractive English military hanger dating to the middle of the 17th century. This is a  particularly bold example mounted with a heavy curved single edged blade with a broad shallow fuller running underneath most of the length of the thick back edge.  Such a meaty weapon was most likely manufactured as the sidearm of a Pikeman and would be particularly effective at close quarters when opposing formations collided.
The iron hilt is formed with a robust cross guard, knuckle bow, rear quillon, downward facing convex shell guard and a flared pommel cap. The grip is of stag antler with an iron ferrule at its base. The hanger was made for a right handed user.
The shell guard is attractively chiselled and pierced with scrolling foliage. A roundel in the middle contains a stylised rampant lion. Underneath this is the chiselled visage of a "Green Man". The knuckle bow is chiselled with foliage and filed with knops to the middle. The top of the bow is secured in an aperture in the pommel waist. The ferrule at the base of the grip, the pommel waist and top, plus the drop shaped rear quillon are chiseled and engraved with further foliate features.
The Green Man is an ancient, mystical, pagan forest deity, representing the growth cycle of spring time and rebirth, which continued into the Christian world to be represented in many churches and other medieval monuments throughout Britain. The Green Man is encountered on other English 17th century weapons, particularly swords of the Civil War periods. Perhaps the idea of rebirth struck a chord with military personnel of the time, the superstitious connection now long forgotten.
The overall length is 31.25 inches (79.5 cm) and the blade is just over 25.5 inches (65 cm). The hanger is homogeneous with a light salt and pepper pitting to the iron hilt parts. For further examples of English military hangers and related sword types of the 17th century see Stuart C Mowbray, British Military Swords 1600 to 1660, Mowbray Publishers, 2013, 158 to 177