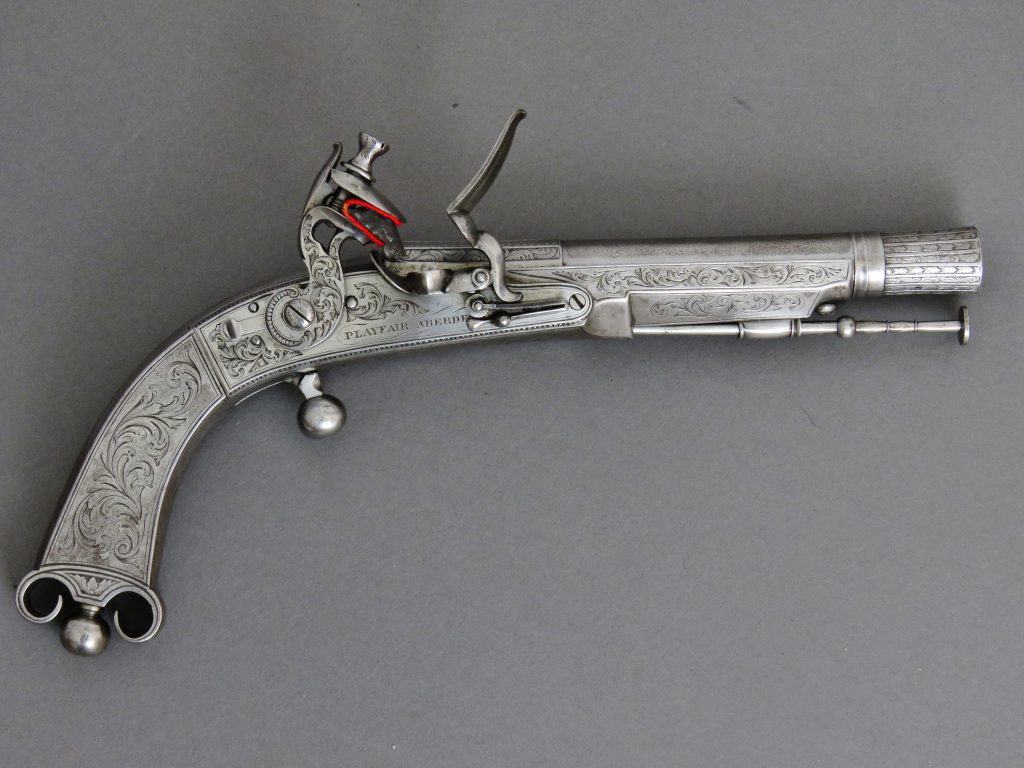 Scottish Highland Scroll Butt Pistol by Playfair of Aberdeen circa 1825
To enquire about this item
please click here
Price: £3,850
Ref: 036.20
Item Description
A very nice all-steel Scroll Butt pistol by Charles Playfair of Aberdeen. The pistol was made during the "Highland Revival" period when interest in the Scottish Highlands was renewed during the 1820's most notably as a result of the visit of George IV to Edinburgh in 1822. This prompted a resurgence of Gaelic culture, dress and weapons which had been legislated against in the 18th century after the failure of the Jacobite Risings.
The pistol is inscribed PLAYFAIR ABERDEEN on the lock plate in capital letters which is also repeated on top of the barrel. The three stage barrel is finely engraved with lines of chevrons and scrolls around the muzzle and at the breech. The fore end is engraved with scrolls on four planes with similar scrolls applied underneath the stock and either side of the grip. The original pricker, trigger and belthook are present.
The lock has a safety catch and is engraved with scrolls either side of the cock which is also similarly engraved. The action is crisp and the pistol retains all its original parts in fine condition. This is a well made and chunky piece of work by a leading Scottish gunsmith. Playfair is recorded as working from circa 1810 to 1835 where he made all-steel flintlock pistols at his shop in Aberdeen.
The 24 bore barrel is 6.5 inches (16.5 cm) long and overall from extremity to extremity the pistol measures 11.25 inches (28.25 cm).