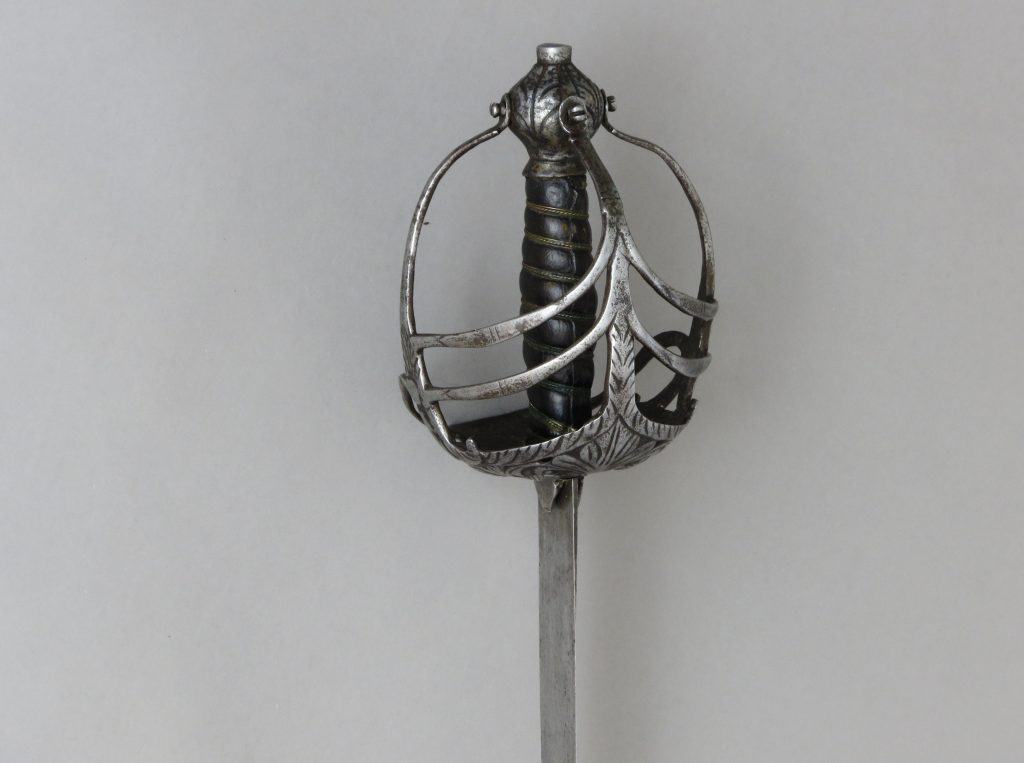 English Mortuary Sword mid 17th century
To enquire about this item
please click here
Price: £2,350
Ref: 010.18
Item Description
A good English "Mortuary" hilted back sword dating to the middle part of the 17th century. The hilt is of typical form consisting of a broad saucer-shaped guard plate from which three main guard bars extend upwards with the flattened terminals screwed into the pommel. The spaces between these bars are infilled with subsidiary bars and scrolls.
The guard plate is covered with chiselled decoration to the outside consisting of panels of foliage and ferns plus two busts either side of the blade.  The guard bars and pommel are decorated with chiselled lines in a fern-like manner. A curled wrist guard is fashioned from the rear of the plate. The pommel is globular in shape and has an integral button and a pronounced flared neck.
The spirally grooved wooden grip is wrapped with leather and bound with twisted and straight lengths of copper wire. It sits on an iron flanged plug mounted onto the inside of the guard plate from which two langets extend through the tang aperture to flank the blade either side for a short distance from the hilt.
The wedge shaped back sword blade has an armourers mark incised on one side consisting of two facing crescents cut in a dog tooth manner, probably a Solingen mark. The blade is just under 35.25 inches long (89.5 cm) and overall the sword measures 41.5 inches (105.5 cm) long.
For a further discussion on Mortuary swords see Cyril Mazansky, British Basket Hilted Swords, Boydell Press 2005, Chapter 11, pages 233 to 280. Our sword hilt corresponds to Mazansky's Type ii and the engraving is similar to sword reference IICii, in the National Army Museum,  illustrated on page 257. The sword hilt is also particularly like that illustrated on page 217 of "British Military Swords", Stuart C Mowbray, Mowbray Publishing, 2013, in the York Castle Museum Collection. The similarities between the engraved patterns to the hilts of these swords may indicate a sub-group within the overall "Mortuary" category, or the signature design of a particular maker or workshop, now unknown.