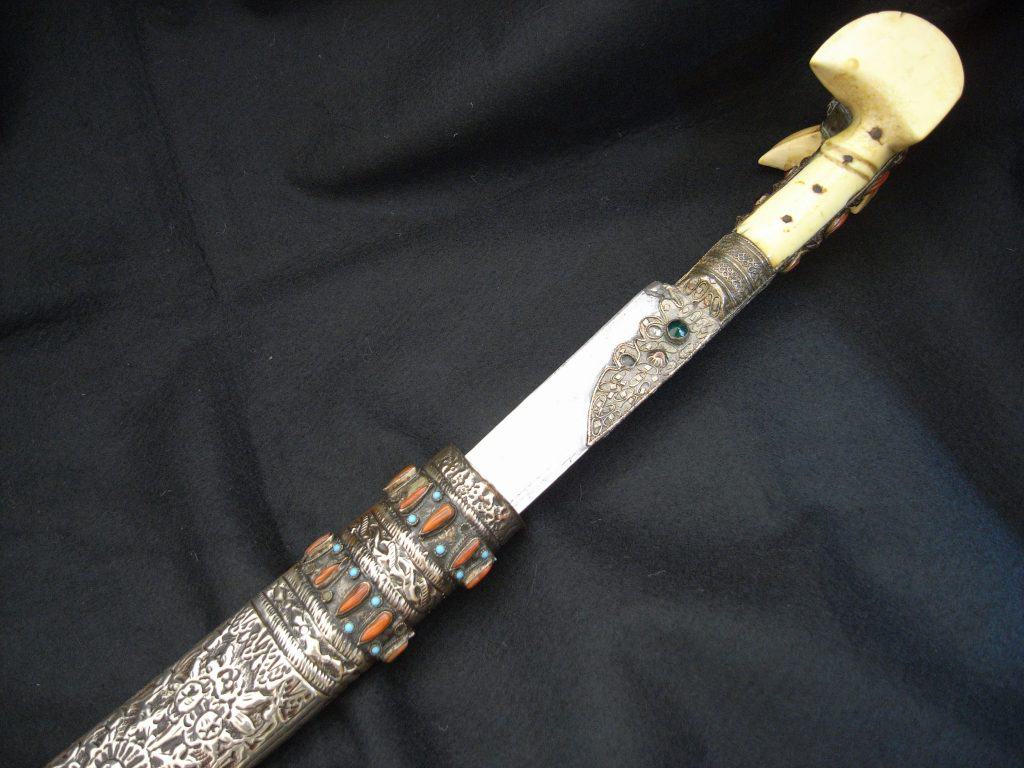 A Fine Ottoman Yataghan dated 1282 for 1865/66
To enquire about this item
please click here
Price: £2,650
Ref: 12.87
Item Description
A fine and decorative example of a Turkish Ottoman Yataghan. The single edged-blade is characteristically downwardly curved, double fullered beneath the spine, and engraved with an inscription on one side, complemented by a decorative panel on the other, both engraved in a naive manner similar to the script seen on traditional Ottoman ceramics.
The inscription translated from old Ottoman Turkish reads: Made by Ibrahim the Pilgrim (for the) Owner Mehmed in the Year 1282 (1865/66).
A pair of elegantly formed grip scales made from marine ivory (walrus tusk) are mounted either side of the tang and secured with four rivets to form an ear-shaped pommel. The Yataghan retains its reptile skin covered wooden scabbard sheathed on its surface for most its length with white metal mounts extensively decorated in raised relief with bands mounted with turquoises and coral around the throat and a rams head finial at the chape.
The gilt copper metal parts to the hilt extend over the upper portion of the blade near the hilt with imitation emeralds mounted either side. A basal ferrule is attached to a central band which separates the grip scales decorated with four corals mounted onto the back side (one damaged) imitation rubies to the front and filigree decoration overall plus raised studs and squares.
The overall length of the Yataghan is 28.5 inches (72.5 cm). The blade is 21.5 inches (54.5 cm) long. This example is similar to other dated examples held in the Military Museum in Istanbul (see Yatagan, Gozde Yasar, Askeri Muze ve Kultur Sitesi Komutanligi, 2009).