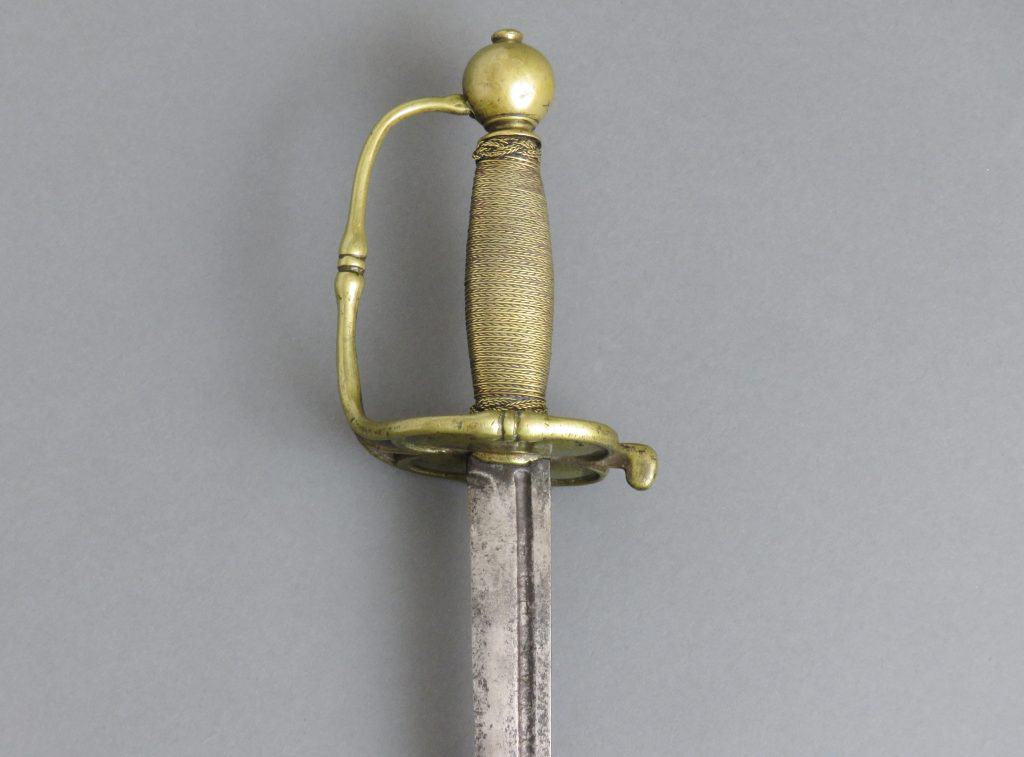 English Officers' Sword dating to circa 1690
To enquire about this item
please click here
Price: £1,325
Ref: 04.20
Item Description
An English Officers' sword, with a brass double shell guard hilt, dating to the end of the 17th century / beginning of the 18th. Swords like this were carried by officers in the Duke of Marlborough's army at the major battles with France such as Ramillies in 1706, Oudenarde in 1708 and Malplaquet in 1709, during the campaigns of the War of the Spanish Succession. During these campaigns Britain and her allies were able to break the long-held military dominance of the French army in Western Europe.
The hilt is made up of a cross guard which extends to the rear to form a drooping wristguard from the quillon with a swollen downward facing terminal. To the front, the knuckle bow extends to secure itself into an aperture located at the front lower part of the pommel. Either side of the cross a solid shell guard is mounted with thickened moulded borders and knops towards the middles of the outer edges. To the front supporting bars emanate from the shell guard rims to attach to the knuckle bow which is also decorated with a knop at its mid-point. The globular pommel has an integral button on top and flared neck beneath.
The blade is deceptively robust, giving a solid meaty balance to such an elegant sword. It is single edged, becoming double edged a few inches away from the tip. It has a short ricasso secured to the hilt base with the help of two short rounded langets, reminiscent of the manufacture of preceding "Mortuary" type English hilts of the Civil War periods. The blade has a long deep fuller running from the end of the ricasso underneath the blunt back edge almost to the tip, terminating at the same place where the blade becomes double edged. The fuller is stamped with a series of capital letters and orb and cross marks on both sides. The baluster-shaped grip is handsomely bound with alternate twists of brass wire and woven "Turks Heads" top and bottom.
The overall length is just under 38.5 inches (97.5 cm) and the blade is 32.5 inches (82.5 cm).