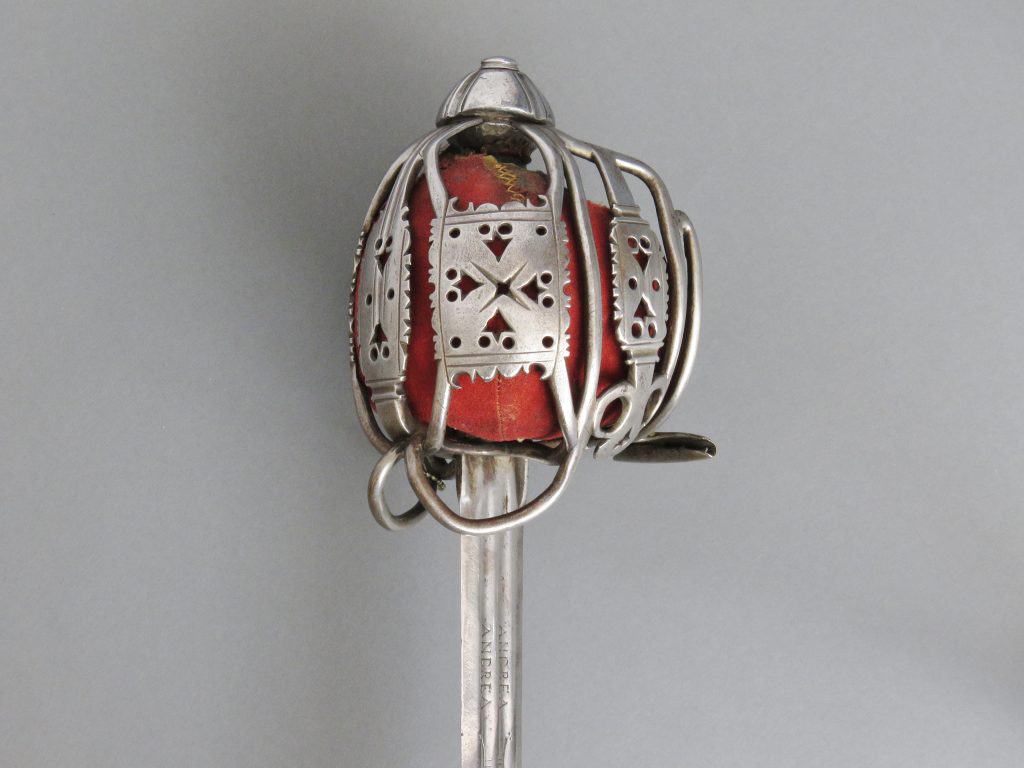 A fine Scottish Basket Hilted Broad Sword Dating to circa 1730
To enquire about this item
please click here
Price: £8,450
Ref: 076.17
Item Description
An attractive, fine quality and robust example of an early 18th century Highland Scottish basket hilted broad sword. The sword is an elegant example mounted with an "ANDREA FERARA" blade and was produced in the period prior to the last Jacobite Rebellion in 1745.
The well proportioned basket guard is forged from thick rounded structural iron bars resulting in a powerful hilt, finely contoured, made by an experienced smith, familiar with producing high quality work from this unforgiving material. The two main frontal guard panels are decorated in typical style, with longitudinal lines incised into the exterior surfaces towards the panel edges. Each has a saltire cut into the centre, surrounded by a pattern of pierced circles and triangles. The edges of the panels are boldly and symmetrically fretted with merlons, arches and grooves, applied in a deliberate, precise and artisan-like manner. The smaller, secondary guard plates to the sides, together with the similarly sized centre front guard plate, are finished in a similar manner.
The dome-shaped pommel has a similarly contoured button on top, filed with a middle groove, and is decorated with four equally spaced wide, deep grooves which radiate from the pommel button, each flanked with narrower incised lines. The upper guard arm terminals of the basket fit into a pronounced chiselled groove which extends for the full circumference of the pommel just below its middle.
The spirally grooved wooden grip is covered with shagreen and bound with age blackened silver ribbon and retains the remains of a woolen fringe at the top. The hilt retains a liner made of red cloth to the outside stitched onto a leather lining on the inside with the remains of a blue silken hem stitched to the edge.
The German (most likely made in Solingen) double-edged "broad-sword" blade is of fine quality and gently tapers to its tip. It has a pronounced ricasso extending for a short distance from the hilt with short fullers near the square-sectioned edges, after which the blade is sharp on both sides. A pronounced double fuller extends from a short distance from the hilt down the centre of the blade for 8 inches (20 cm) after which the blade is of smooth lenticular section to its tip.
On each side, each fuller, is boldly marked with the name ANDREA FERARA, the words separated by dot and crescent marks and flanked by crosses. A short distance beyond the termination of the fullers a bold running wolf mark is carved on each face.
For a similar style hilt, probably from the same workshop, see fig F5c page 102 in "British Basket-Hilted Swords", Cyril Mazansky, The Boydell Press, 2005, for a sword in Blair Castle in Perthshire.
Provenance: Arnold Rothschild Collection, Baltimore. The sword retains its brass collection inventory tag number 14 and chain. The overall length of the sword is 39.5 inches (99 cm) and the blade 33 inches (84 cm).