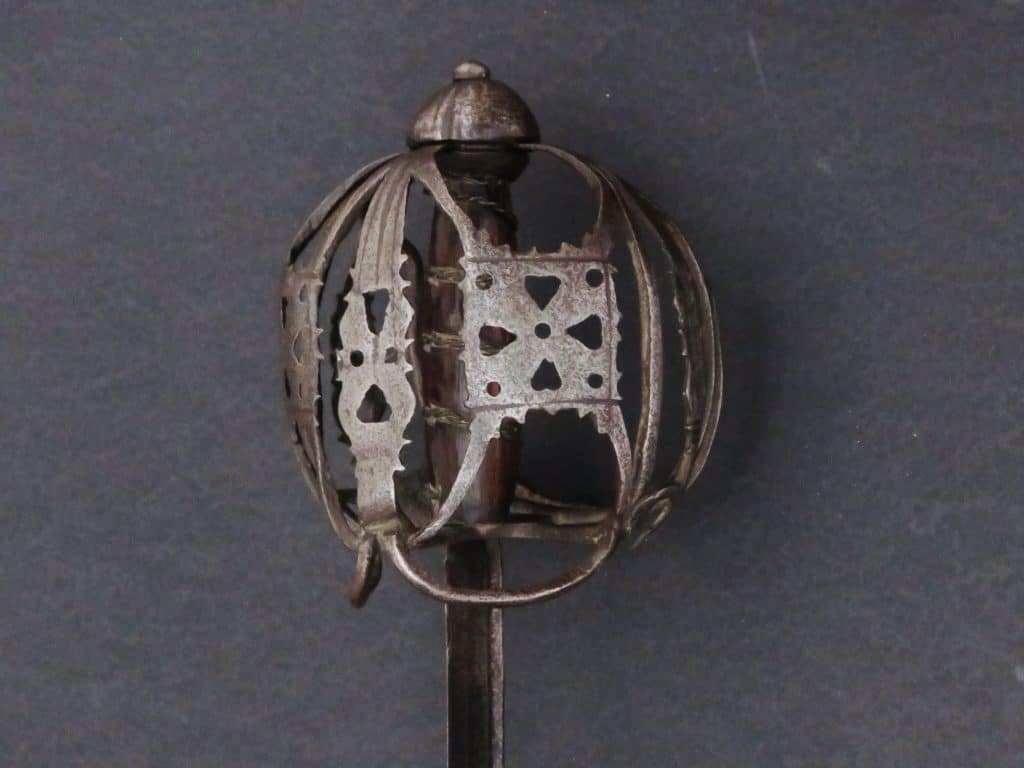 Scottish Basket Hilted Back Sword dating to circa 1680
To enquire about this item
please click here
Price: £2,375
Ref: 069.18
Item Description
An attractive Scottish basket hilted sword dating to the later 17th century. The guard is of a style and profile dating to the earlier period of evolution of the  fully developed Scottish basket hilt compared to later 18th century examples. The sword is in uncleaned and original condition, with some wear to the hilt, and with a lightly pitted age-blackened speckled "salt and pepper" patination  consistent over all of the metal parts. The sword is mounted with a single edged blade, is nicely proportioned and well balanced. The hilt retains its shape with no cracks, repairs or significant dents.
The fully formed basket guard is comprised of finely forged and sturdy structural bars between which two frontal panels and secondary guard plates are mounted and pierced with circles and hearts, engraved with vertical and horizontal line decoration, and cut with fretted edges consisting of crescents and merlons. The rear quillon is incised with lines underneath.
The pommel is dome-shaped with three sets of triple lines radiating from the  tang button on top, the central grooves being wider than those on the flanks in each case. The three upper arms of the guard are securely tucked into a groove cut around the lower half of the pommel. The hilt is tight together.
The tapering blade has a short ricasso, the shoulders of which fit into a purposely cut groove in the underside of the cross guard in the Scottish manner. It has a rounded tip and is 32 inches long. A single, broad, shallow fuller extends from the hilt along the middle of the blade and terminates 4 inches (10 cm) from the tip. A deeper, narrower fuller extends from the hilt underneath the spine of the blade and terminates 8 inches from the tip after which it is double edged to the tip.
The original grip is of wood, spirally grooved and lacking its original shagreen cover, and now nicely patinated with a rich brown colour. The grip retains some wire binding. The grip is split in parts probably due to pressure exerted from expansion of the tang due to rust caused by water ingress between the inside of the grip and the tang over time. The overall length of the sword is 37.25 inches (94.5 cm).