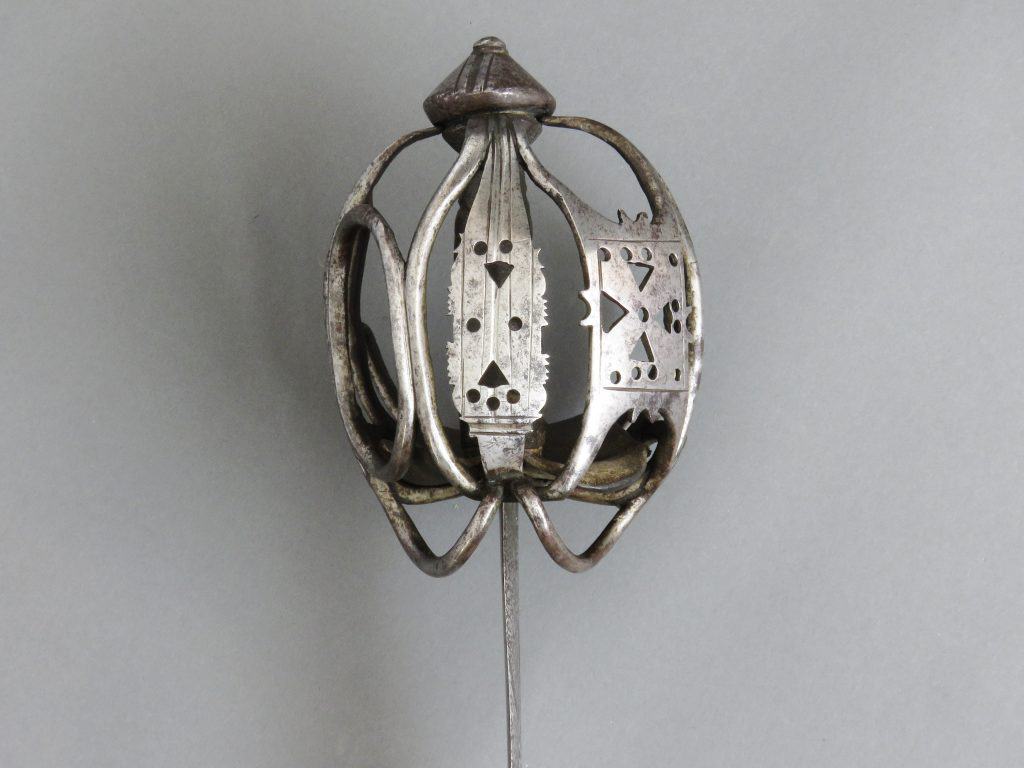 Fine Scottish Basket Hilted Sword Circa 1720 to 1740
To enquire about this item
please click here
Price: £6,450
Ref: 061.18
Item Description
A handsome Scottish basket hilted broad sword dating to the second quarter of the 18th Century. The sword is in fine, crisp, unrestored and original condition. The hilt is of fine quality, well contoured and expertly forged from thick pieces of iron, delicately fretted and finished, and finely balanced with its broad blade. The hilt parts are secure and tight together. Overall this is an imposing weapon, of robust manufacture for a skilled user, and finished with attractive lines and pleasing curves, and was most likely made for a middle-ranking member in a Scottish Highland clan hierarchy.
The front panel and side guard plates of the basket guard are pierced with hearts, circles and engraved with angular border line decoration, and finely cut with fretted edges. An oval ring is built into the front of the hilt in place of one of the two frontal square guard plates more usually found in the design of early Scottish basket hilts. The hilt retains its wristguard.
The pommel is cone-shaped with three sets of triple lines radiating from the tang button on top, the central groove being wider than those on its flanks in each case. The three upper arms of the guard are securely tucked into a groove chiselled around the lower half of the pommel.
The broad double-edged blade is of lenticular section, tapers to its rounded tip and has a short ricasso. A double fuller extends for 7.5 inches (19 cm) along the blade from the hilt on each side with four letters in each and punched circles. Lines are incised imbetween and either side of the fullers which extend from the hilt and terminate in a cruciform design a short distance beyond the ends of the fullers.
The original grip is of wood, spirally grooved, with the remains of its original shagreen covering still attached and with its original leather liner at the base.
In general, the sword is in lovely original condition with speckled age blackening in parts. The overall length is 39 inches (99 cm) and the blade is 33 inches long (just under 84 cm).