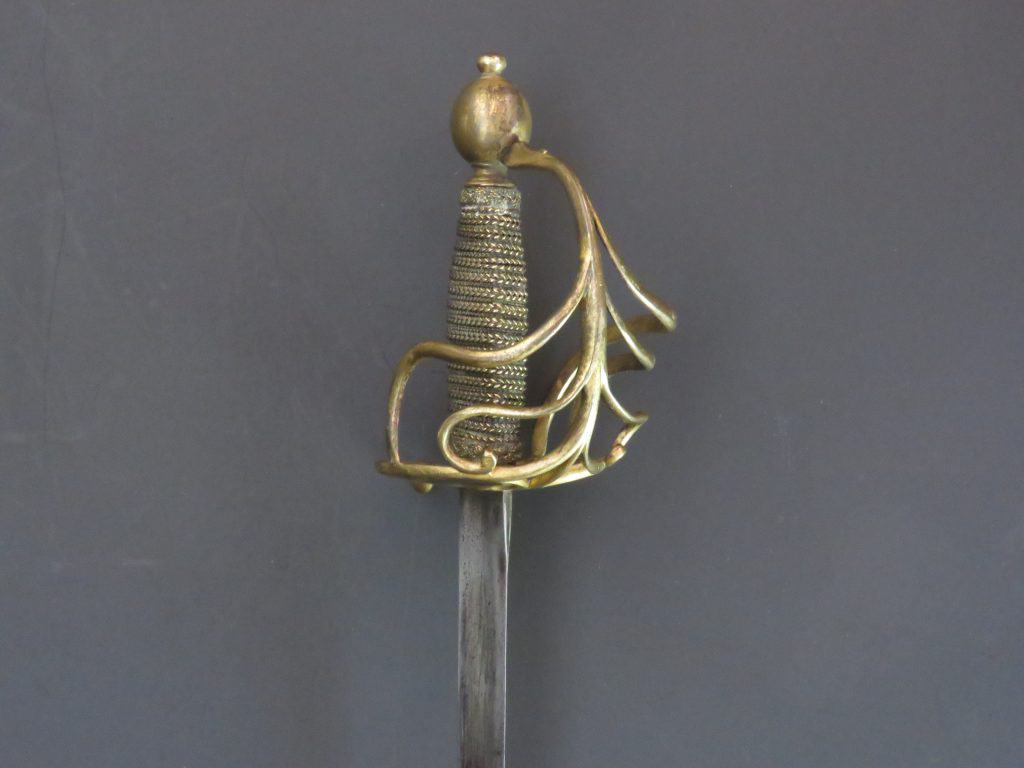 English Officers' Sword Circa 1700
To enquire about this item
please click here
Price: £1,750
Ref: 005.18
Item Description
A scarce and attractive English Officers' sword  with bronze or brass gilt hilt dating to the end of the 17th century. The slender blade carries the  Blackamoor head mark at the forte which was assigned by the London Cutlers' Company  to Abraham Smith on 25th March 1694. The original grip is handsomely bound with alternate twists of brass wire and woven "Turks Heads" top and bottom. The remarkable feature is the survival of much of the gilt to the hilt.
The hilt is made up of a cross guard with a rear quillon terminating in a  wristguard with a downward facing swollen terminal. At the front, a main knuckle bow extends upwards to secure itself into an aperture located in the lower part of the pommel.
Either side of the cross a solid shell guard is mounted with thickened moulded borders. To the upper edge of the front of each shell rim secondary scrolled swept guard bars are  attached, three to the outside of the guard and two to the inside, which rise separately to join the main knuckle bow. The style of these bars and terminals is reminiscent of earlier English "Mortuary" and "Wallon" type hilts. The oval shaped pommel has an integral button and flared neck beneath.
The blade is single edged, becoming double edged towards the point, and has a short ricasso plus a long shallow fuller. The armourers mark, now worn, is present on both sides. The overall length is just under 38 inches (96 cm) and the blade is just under 32 inches (80 cm). The sword is in good condition. The blade has an old nick on the cutting edge towards the end.