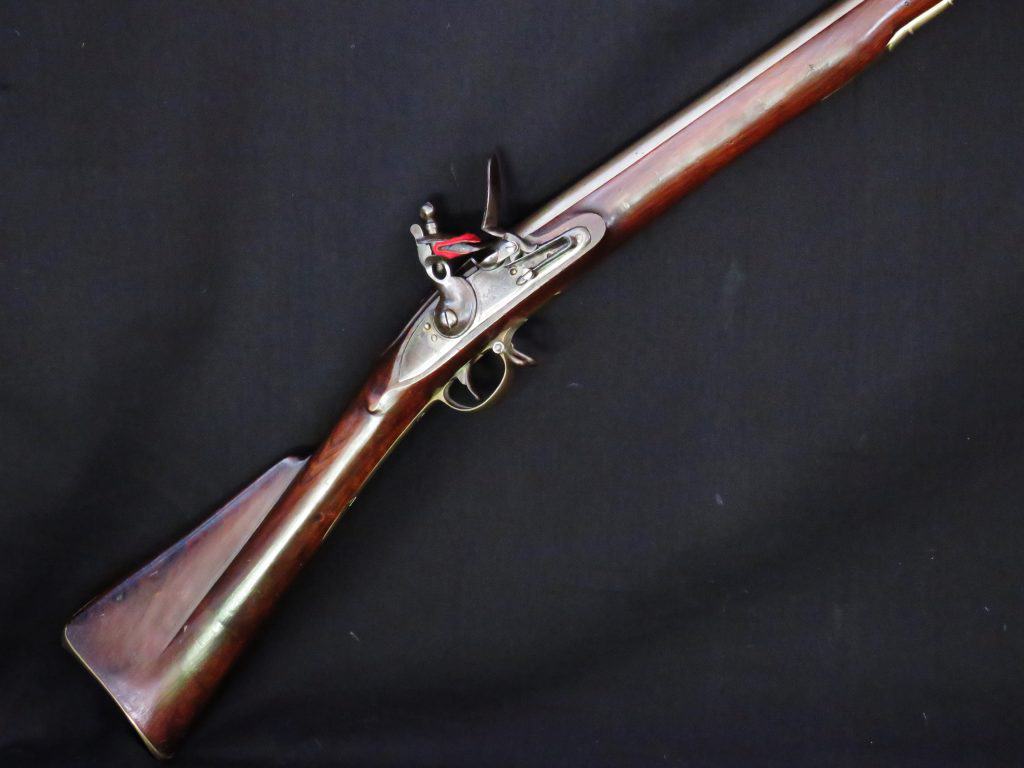 A Fine Brown Bess Musket with Bayonet Early 19th Century
To enquire about this item
please click here
Price: £3,800
Ref: 006.17
Item Description
A fine Brown Bess Musket & Bayonet by Wooley, Sargant & Fairfax dating to the early 19th century (post 1809).  The musket is in wonderful  condition, tight together, with consecutive numbers to the marked parts and retains its bayonet and scabbard. This fine original state indicates that the musket has been stored in clement armoury conditions for around two centuries and marks it out from its peers. Muskets of this type were used by infantry regiments of the line throughout the major conflicts of the early 19th century where British troops were involved until decommissioning in 1842.
The makers,  "Wooley, Sargant & Fairfax", were important Birmingham based contractors for the Board of Ordnance. The firm was a partnership made up of a number of subsidiary concerns, very much interrelated, as some of their various names during the first quarter of the 19th century would indicate: "Wooley & Deakin", "Wooley & Sargant", "Sargant & Co" and of course "Sargant & Son" under the umbrella of "Wooley, Sargant & Fairfax". It was common for firms to align, then re-align  themselves, as demand from the military, and the emerging British Empire, created periodic swells of demand. Firms banded together to service contracts as they were commissioned.
The lock plate face is marked in small letters "WSF" underneath the pan for  Wooley, Sargant & Fairfax. Underneath, near the lower middle, the bolder name "SARGANT & SON" indicates that this gun was part of a commission awarded to WSF then subcontracted within the firm to Sargant & Son. The lock plate tail is marked "WARRANTED" in a vertical curve behind the cock. The barrel is also stamped with two proof marks.
The barrel is "in the white", as would be expected, and the pristine case hardened lock has a lovely almost oil sheen finish. The wood is in fine condition. The barrel is 39.5 inches (just over 100 cm) long. The ramrod is a replacement.
The bayonet is by Woolley Deakin & Co, another firm in the WSF partnership,  and is stamped with a number 24 under a crown and British Ordnance mark. It retains its stitched leather scabbard which is missing its chape but retains its brass mouthpiece. The blade is 17 inches 43.25 cm long.
Note: A case of muskets, pistols and bayonets, by the same maker, in original packaging, was bought by the Royal Armouries in the UK in 1996 through the Smithsonian Auction in the USA. WSF and its associates were also suppliers of edged weapons to the Board of Ordnance.