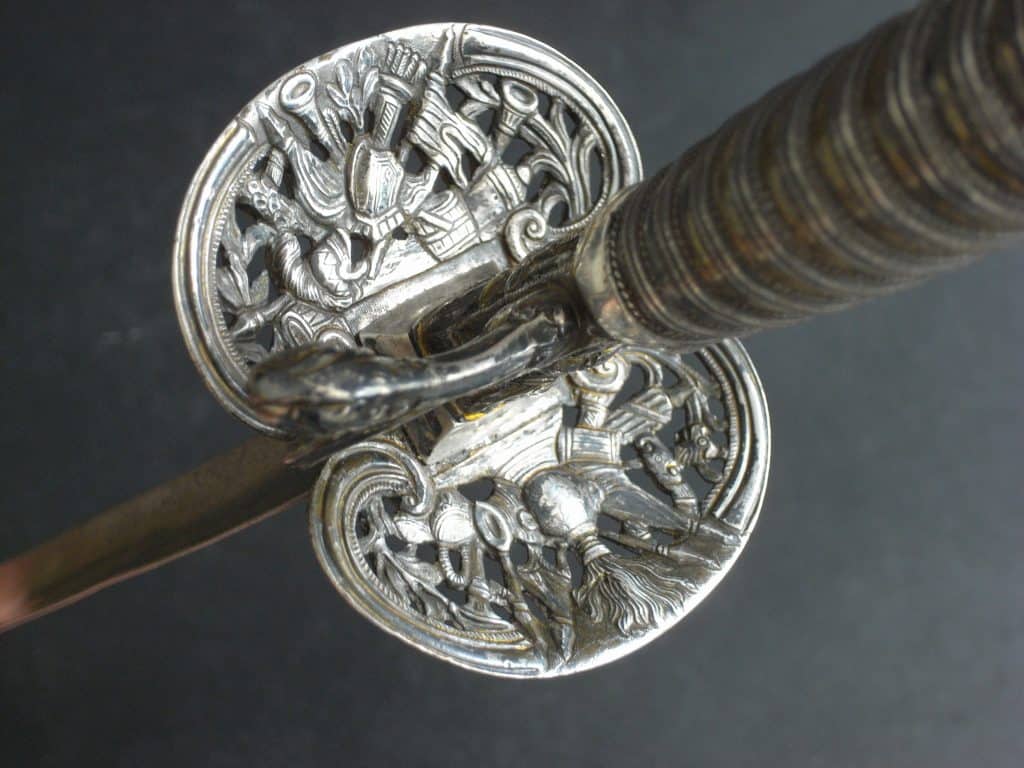 Silver Hilted Small Sword with London Hallmarks for 1756/7 by James Bennett
To enquire about this item
please click here
Price: £2,350
Ref: 11.74
Item Description
A fine 18th century English silver hilted small sword, with some remaining original gilt highlights, in good condition, with hallmarks for London 1756/7 and a makers mark comprised of the letters "I B" inside a shield, for John Bennett (I), based at 67, Threadneedle Street in the City of London.
Typically, the silver hilt consists of a double shell guard, pas d'ane rings, knucklebow and quillon, with attractive ribbed and moulded borders. The shell guard, pommel and ricasso are pierced and engraved with intricate compositions of martial trophies – banners, drums, trumpets, lances, armour, cannons, grenades, stands of arms etc set off against a foliate background.
The hilt is in good condition and without any noticeable dents, bangs or bruises. It retains some of its original gilt surface in the crevices of the engraving which highlights the compositions. There are no losses or repairs and the hilt has maintained its original shape. The hallmarks are very clear. The grip consists of silver wire binding of different twists and thicknesses applied to a hard wood core. The detail is slightly rubbed in a few places on the pommel but otherwise, overall, is quite crisp.
The tapering hollow triangular section colichemarde blade is 33 inches (84 cm) long and overall the sword is just over 40 inches (102.5 cm) long. The blade has a deep fuller on the inner side, and a pronounced spine running down the middle of the other, plus remnants of delicate foliate designs either side, now faded through friction caused by sheathing and drawing the sword in its scabbard.
For further examples of the work of John Bennett see "London Silver Hilted Swords", Leslie Southwick, Royal Armouries, 2001, page 285 fig 54 and page 286 fig 55. John Bennett (I) worked alongside his son (John Bennett II) in the third quarter of the 18th century and both had similar marks. Given that the son was born in 1743/4, and was indentured to his father for seven years from 6th April 1758, we have assumed that he would have beeen too young to make and sign this sword. Hence we believe John Bennett (I) to be the maker (see Southwick pages 45 & 46).
Note: The sword will clean very well to a bright finish – the decision to do this will lie with the new owner.