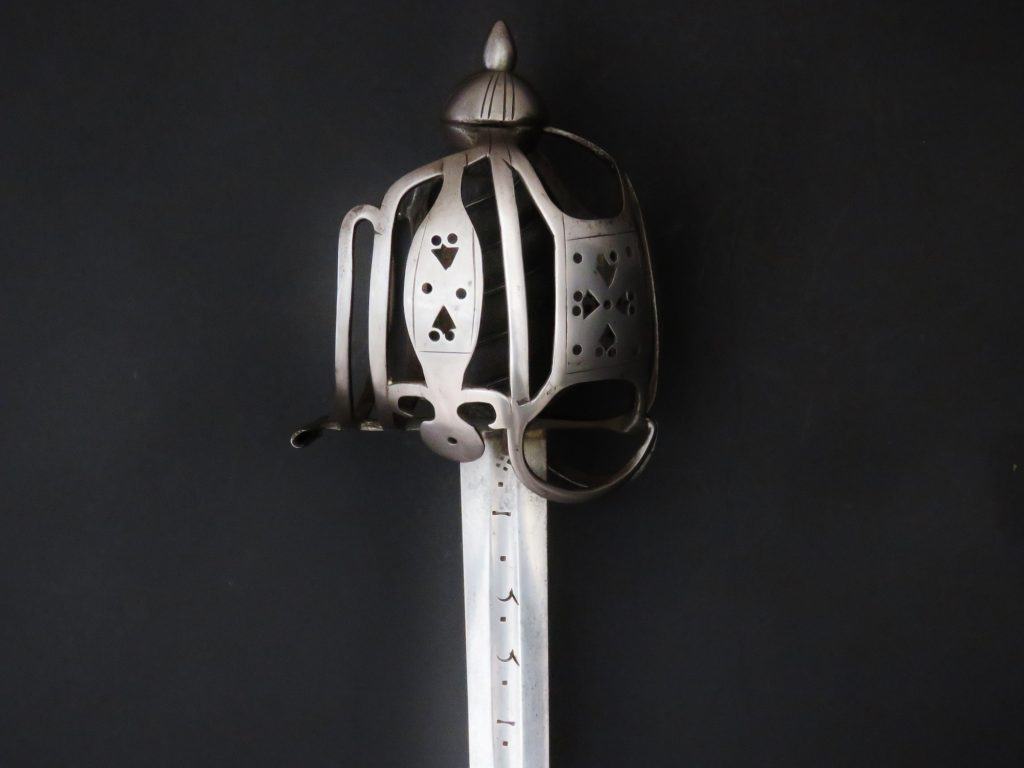 Scottish Basket Hilted Broad Sword with Talismanic date "1551" on the blade circa 1730
To enquire about this item
please click here
Price: £4,250
Ref: 063.17
Item Description
A Scottish basket hilted broad sword dating to the second quarter of the  18th century. The sword is of robust and functional form with an attractive shape and contours. It was most likely made for a Highland clansman. The sword is mounted with a fine quality tapering blade and is well balanced in-hand. Overall it has survived in fine condition.
The high quality, broad, double edged blade is of lenticuler section and tapers gently to its tip and is just just under 35 inches (88.5 cm) long . The blade has a broad and deep fuller (6.5 inches / 16.5 cm long) which reaches down the blade from the hilt tapering towards its ends on each side. Inside the fuller on each side is the talismanic date "1551" applied as numbers interspersed with single dots and flanked by quatrefoils of dots. Just beyond the fuller terminal on either side a bold running wolf mark is incised into the blade. This is most likely the mark of a Solingen armourer. The blade is older than the hilt and dates to the mid / to late 17th century. It is probably a blade with some ancestral value that has been remounted on a more modern hilt from an earlier sword in the 18th century.
The well-formed hilt is made from an arrangement of flattened structural bars with two main frontal guard plates and three secondary guard plates attached, all decorated with incised lines and punched with patterns of triangles and circles. The pommel is decorated with four quadruple sets of incised lines which radiate from the pronounced oval pommel button. The upper arms of the guard are tucked securely into a groove cut around the pommel just below its equator. The spirally grooved wooden grip is covered with shagreen and bound with silver wire with wire woven "Turks Heads" top and bottom.
The sword is an imposing piece, firm in hand and is an excellent display item. The metal parts are in fine clean and undisturbed condition, without pitting or repairs, displaying a light age-related staining in parts commensurate with its age. The overall length is 41 inches.