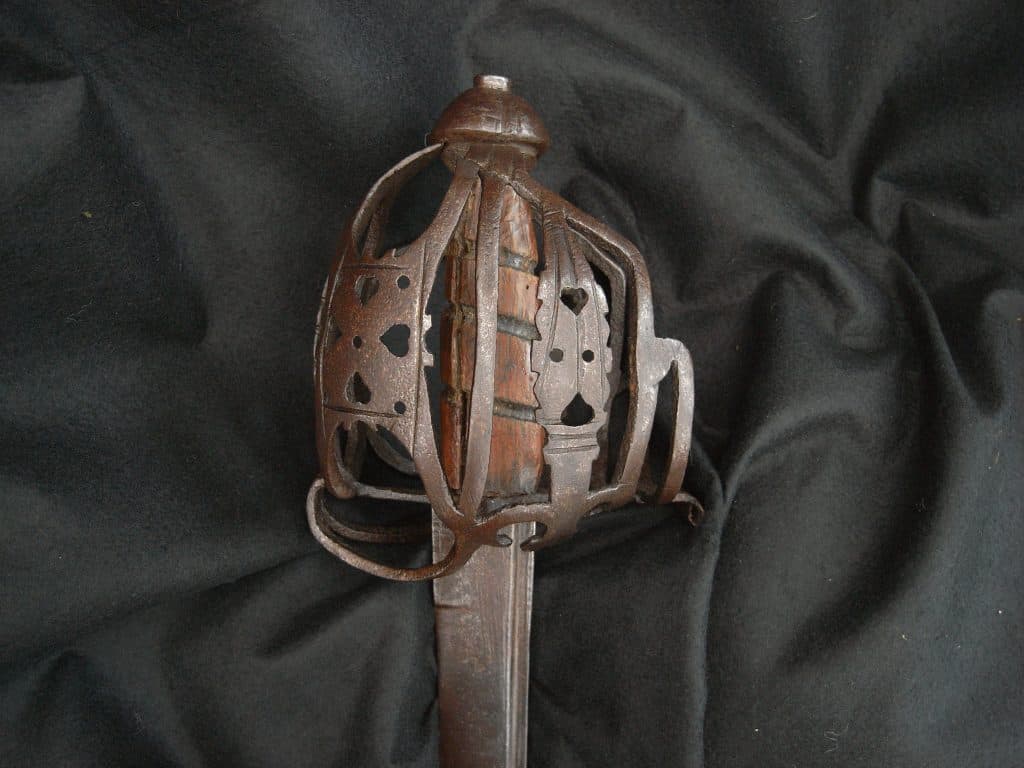 Scottish Basket Hilted Sword Circa 1740
To enquire about this item
please click here
Price: £2,500
Ref: 10.57
Item Description
A Scottish basket hilted back sword dating to the second quarter of the 18th century. The sword is of munitions grade and may have been made for the Jacobite army in the early period of the '45 when it was equipped in Perth, and nearby, at the beginning of the last Jacobite rising.
The fully formed basket is of bold manufacture with sturdy structural bars. The front panel and side guard plates are pierced with hearts, circles and engraved with angular border line decoration, and cut with fretted edges consisting of squares and merlons. An oval ring is built into the front of the hilt in place of one of the two frontal square guard plates more usually found on Scottish 18th century basket hilts.
The pommel is dome shaped with three sets of triple lines radiating from the tang button on top, the central grooves being wider than those on the flanks in each case. The three upper arms of the guard are securely tucked into a groove cut around the lower half of the pommel. The sword hilt is tight and secure.
Of tapering back sword form the blade has a ricasso of approximately 1.5 inches (3.75 cm) in length.  A double fuller extends for most of its length. The upper fuller, which sits just below the blunt spine of the blade, starts at the hilt and terminates 3 inches (7.5 cm) from the tip after which the blade is double edged. Below this, the second fuller runs in parallel and begins 9.5 inches down the blade (24 cm) from the hilt and terminates at the blade tip. The remains of a blade makers mark is evident in the fullers, now worn away, and no longer legible.
The original grip is of wood, spirally grooved, with the remains of leather lining top and bottom, the cover and wire binding now missing. The grip is split top to bottom towards the front and is firm and secure.
In general the sword is in nice original condition with a brown russet patina overall. The overall length is 35.5 inches (90 cm) and the blade is 29.25 inches long (74.5 cm)