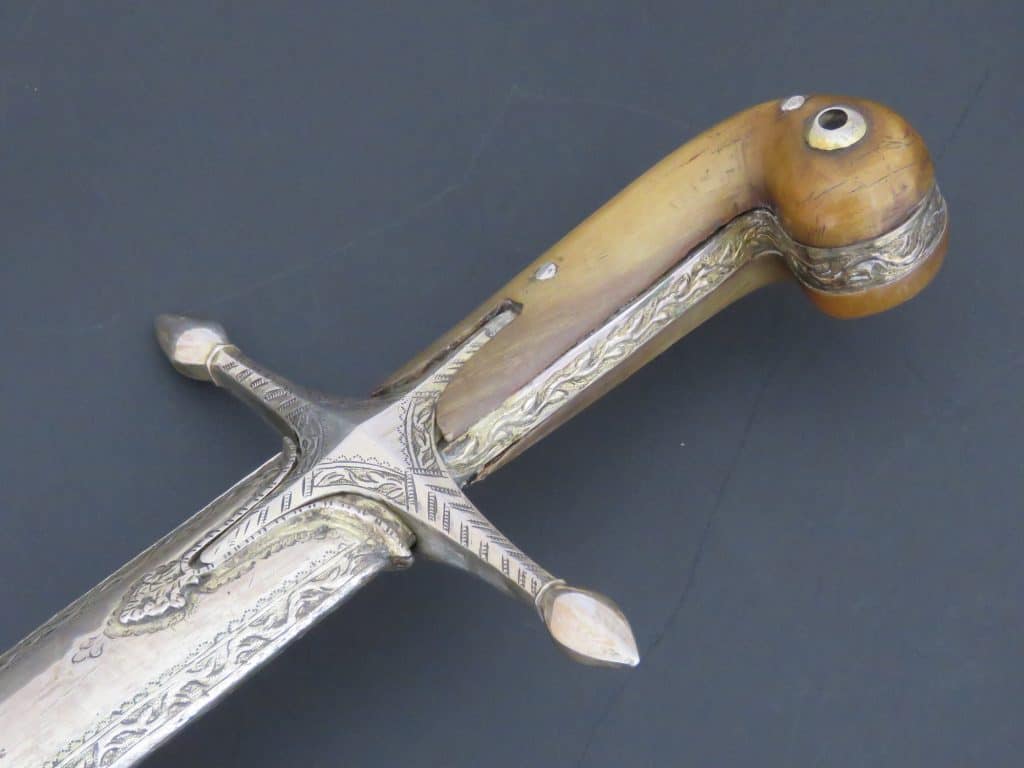 Fine early 19th Century Ottoman Silver Mounted Kilij
To enquire about this item
please click here
Price: £4,650
Ref: 048.16
Item Description
This fine and attractive Kilij retains its scabbard and is in fine original condition. The hilt is formed with a silver cross guard with pronounced equally sized langets extending down the blade and upwards into the grip either side. The horizontal hexagonal cross-section quillons taper towards their ends and terminate in swollen solid oval knops. The quillons and langets are decorated with incised chevrons pointing inwardly towards the swollen quillon block which has a panel of floral chains in the middle on each side.
The "rhino" horn grip scales are joined together by two silver pins and a tubular decorated wrist cord aperture at the pommel, and separated by a continuous band of silver. The band is decorated with a floral chain similar to that on the cross guard, and in the niches, retains elements of its original gilt covering, as does the cross guard.
The scabbard is of wood covered with stitched black leather and a large silver chape and mouthpiece. Both mounts are richly decorated with floral and ropework designs like those on the cross piece and silver band. Both have tughras stamped on the upper edges which correspond to the blunt back edge of the blade. The mouthpiece is shaped with an aperture either side with a raised hem to accommodate the downward facing langets from the cross. The scabbard is also mounted with two solid silver decorated suspension loops.
The curved blade is of "T" back section from the hilt to the yelman which is 9 inches (23 cm) from the tip. A wide central fuller runs underneath the back edge from the hilt almost to the tip. The blade significantly widens towards, and after, the yelman and after which the blade is double edged. Either side an engraved cartouche with an inscription is present near the hilt. The blade is fine condition and seems to have retained much of its original polished surface. The blade length is 27.25 inches (69.5 cm) and overall the Kilij is 33.25 inches (84.5 cm) long.