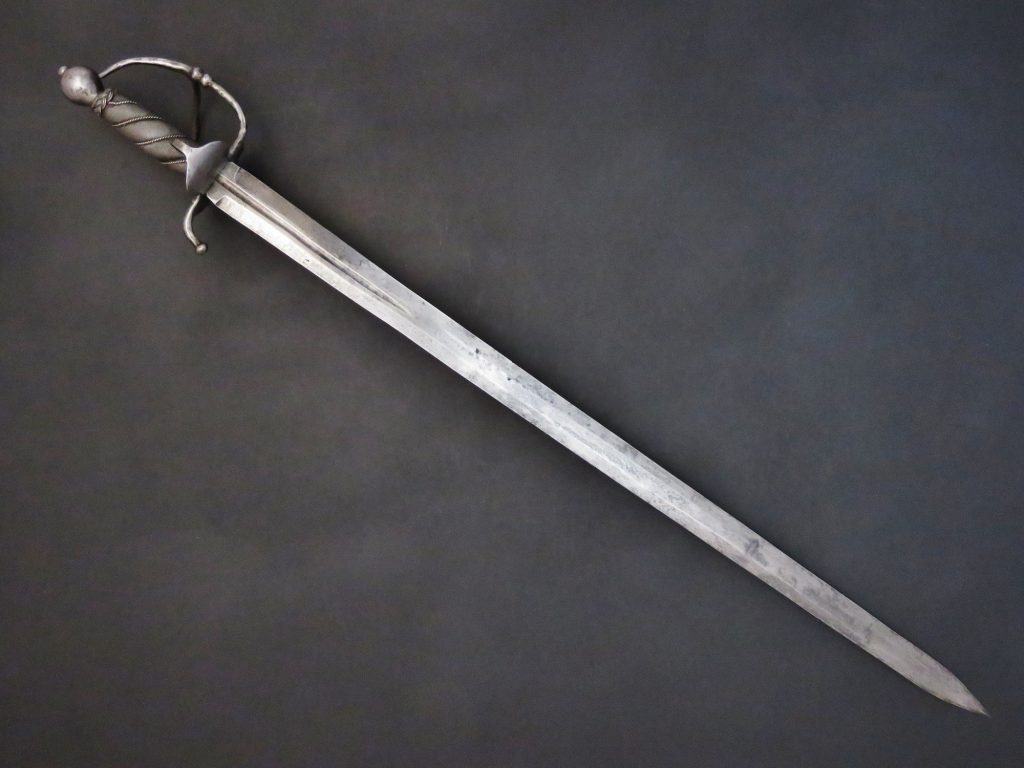 17th Century German Infantry Broad Sword of Early "Walloon" Type
To enquire about this item
please click here
Price: £1,950
Ref: 046.16
Item Description
A fine German, or Northern European, single hand broad sword of early "Walloon" type, of robust munitions form, in good condition, dating to the first half of the 17th century and the Thirty Years War period in Europe. Multifunctional swords of this type with double edged stiff blades were generally used in close quarter front line combat by infantrymen and pikemen when massed ranks met, sharp enough to cut through the less defended areas of an opponent, and strong enough to be used for thrusting to penetrate between plates of armour.
The hilt is forged as a cross guard from which a round section knuckle bow rises to the pommel from the front quillon, swelling towards its middle, and cut with a decorative grooved waist. A downward tear drop shaped wrist guard emanates from the rear quillon. A heart shaped circular loop guard with a moulded border protects the fingers of the right hand which is infilled with a plate pierced with a diamond pattern of 9 apertures.
A second curved guard bar rises to the pommel at the side, from the loop guard, and is formed in similar fashion to the knuckle bow with a swollen middle and a waist. The hilt is strengthened by a further curving bar which links both these main guard bars together. To the inside a thumb guard loop is applied with an expanded protective base.
The oval shaped pommel has an expanded collar to its base and an integral raised pommel button on top. The baluster shaped wooden grip is of wood and spirally grooved with wire binding and woven wire "Turks Heads" top and bottom.
The tapering pointed double edged blade is of fine robust quality. A short pronounced ricasso is present after which the blade is of flattened hexagonal section for most of its length. A pronounced central fuller on both sides extends for 7.5 inches (19 cm) from the hilt. The blade is just under 32.25 inches long (82 cm).