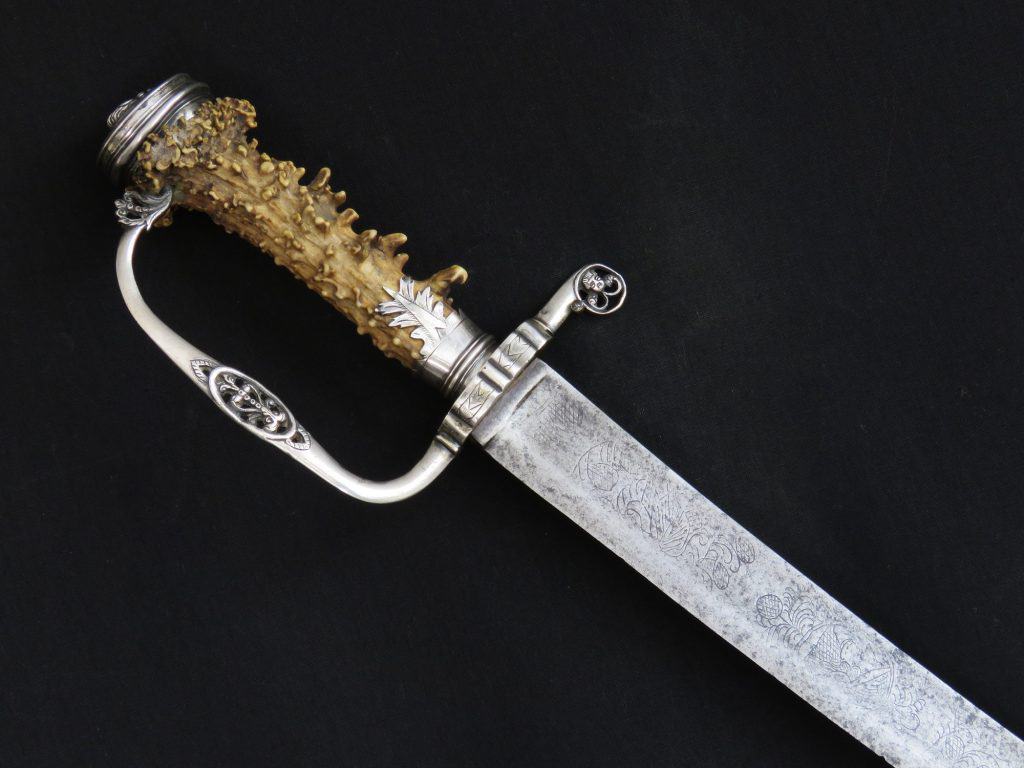 Late 17th Century Silver Hilted Hunting Hanger by Thomas Vicaridge of London
To enquire about this item
please click here
Price: £2,350
Ref: 10.01
Item Description
An attractive and rare, late 17th century English silver-mounted hunting hanger. The knucklebow is struck twice with the pre-Britannia standard (pre 1697) maker's mark of Thomas Vicaridge, "TV"with a crown above and a pellet below inside a shield. Only a few surviving edged weapons signed by this maker are known and all are of high quality. The blade is 21.5 inches (54.5 cm) long and has a short ricasso. It is etched with foliage on each side at the forte, one side involving a profile bust in an oval, and on the other, a lion rampant.
The silver knucklebow is pierced and chased with foliage within an oval. The quillon terminal is a roundel pierced with a face. The circular pommel-cap has a border of engraved foliage with the face of a cherub in the middle. The grip is made from a roe buck antler. A silver basal ferrule is present with an engraved foliate panel which extends into the grip space alongside the lower section of the grip on one side.
Thomas Vicaridge completed his apprenticeship to Joseph Jones, a London Cutler, on 25th April 1682 when he was sworn "Free" upon completion of his term of servitude at a well attended meeting at Cutler's Hall. Until 1697, along with other silversmiths, Vicaridge used his own mark, the letters "TV" with a crown above and a pellet below inside a shield. Two examples of this mark struck on a copper plate for reference are preserved at Goldsmith's Hall and are identical to the marks on the sword discussed here. In 1697, with the advent of the Higher, or Britannia, Standard for silver, smiths were required to record a new punch mark bearing the first two initials of their surnames. As a result, Vicaridge recorded the mark "VI" with a crown above and pellet below inside a shield. This mark was used from 1697 onwards.
An article by Leslie Southwick published in the Royal Armouries Yearbook (vol 5 in 2000) discusses Vicaridge's "pre" and "post" Britannia standard marks and illustrates examples of hangers by this maker similar to the one discussed here which are housed in various national collections including the Victoria & Albert Museum and the National Maritime Museum.