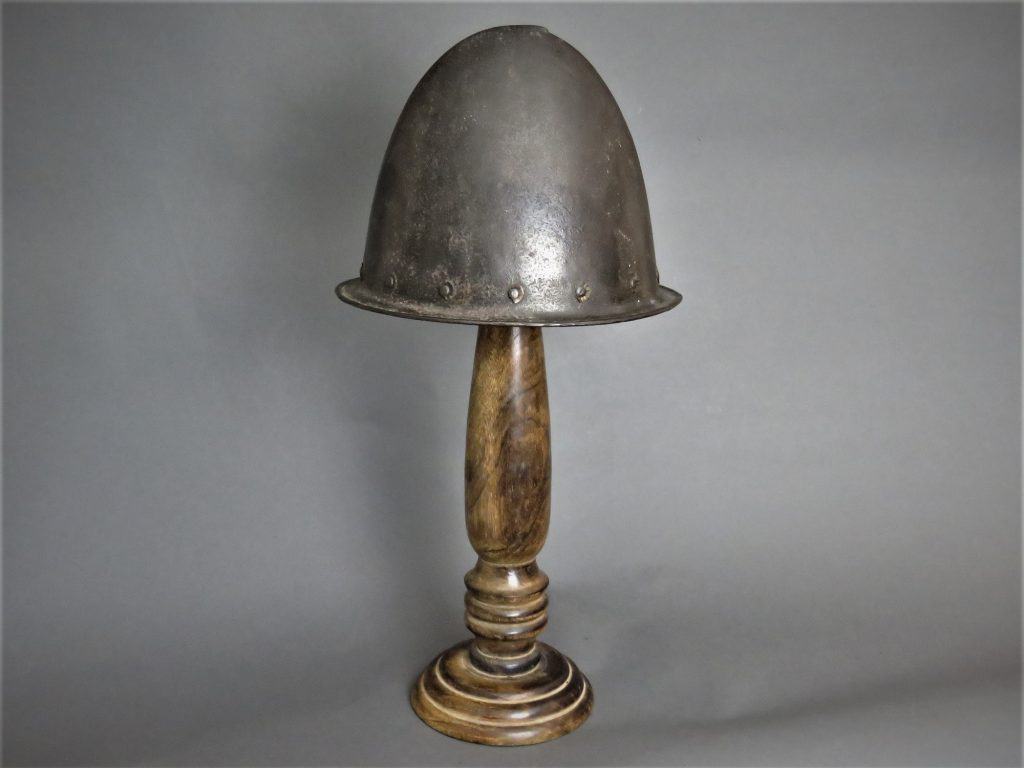 Italian Cabasset of siege weight Circa 1580
To enquire about this item
please click here
Price: £985
Ref: 17.15
Item Description
A late 16th century Italian Cabasset fashioned from one piece of iron with a crown of rounded almond shape and with a narrow flat integral rim projecting from the skull into an oval shaped brim. Cabassets were worn by rank and file infantry soldiers operating in pike and shot formations in Europe. The centres that manufactured these helmets produced them in massive quantities for export and cabassets found their way into the armies of almost all European countries. Whilst cabassets are not rare this one is interesting due to the thickness of the iron which indicates that it was manufactured for siege use. It weighs over 4 pounds (1.9 kilos).
The edge of the rim is plain and folded as a brim. The base of the crown is fitted with round headed rivets which hold the remains of the inner liner in place.  All fourteen original rivets are present together with remnants of the brass washers on the outside. On top the skull is forged with its typical "stalk".
The cabasset  is just over 9 inches (23 cm) wide at the middle measured edge to edge, 10.25 inches (26 cm) long and 7.5 inches (19 cm) high. The cabasset is russet all over and in its original uncleaned condition.