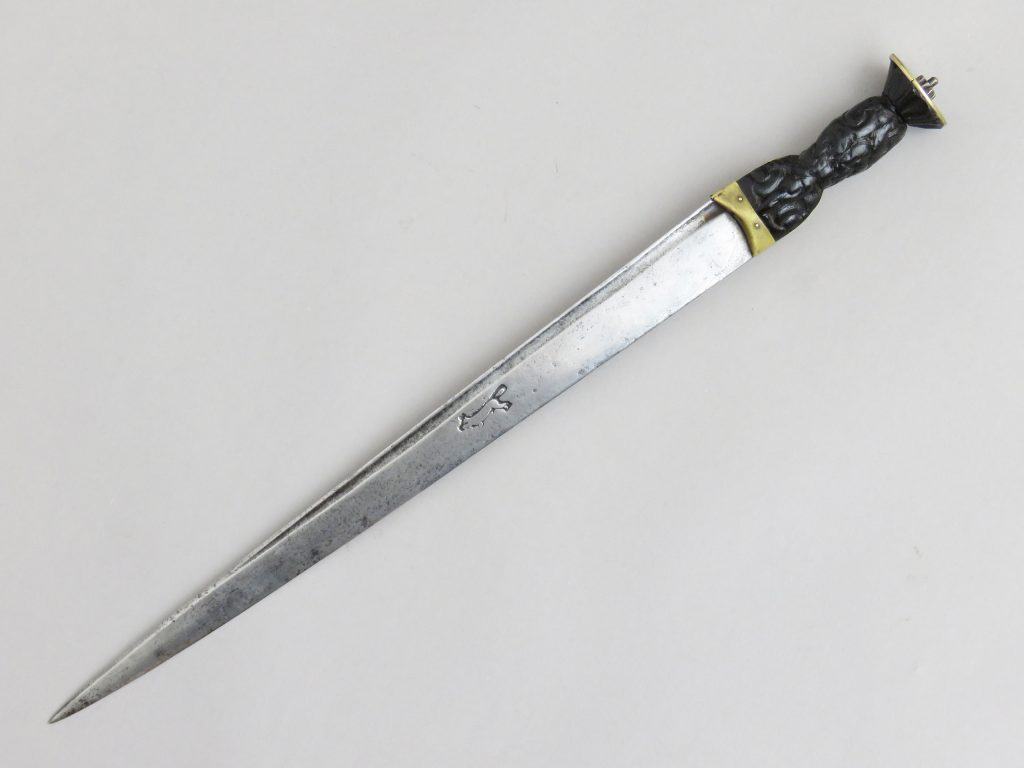 Fine Early 18th century Highland Scottish Dirk
To enquire about this item
please click here
Price: £8,750
Ref: 12.67
Item Description
A fine quality and robust 18th century Highland Scottish dirk dating to circa 1715, made with a bog oak grip, brass mounts and a cut down back sword blade. The tapering blade has a single fuller is marked with a running fox on one side probably indicating Shotley Bridge as the place of manufacture. An excellent example of a first quarter 18th century Scottish Highland weapon in fine condition.
The grip has a rich, deep reddish coloured patina and is carved with an early form of grip decoration consisting of four columns of reeded interlaced Celtic ropework rather than bands. The underside of the pommel is engraved with a foliate pattern of arches. The brass pommel cap is engraved with two concentric circles inside which a six point floret radiates from the centre, a pattern which often appears on other traditional contemporary Highland Scottish craft items such as powder horns and targes. The threaded tang is secured by a thick square shaped nut with beveled edges above which a small amount of tang protrudes.
The dirk has a typical brass crescent shaped ferrule applied to the base of the grip into which the shoulders of the blade sit secured by two brass pins either side, one now missing. Two strips of brass protect the haunches of the grip base, a thinner one on the cutting edge blade side and a wider one on the back edge haunch. The brass parts display a dull aged patination.
Provenance: The dirk is published in "The Price Guide to Antique Edged Weapons" by Leslie Southwick, Antique Collectors Club, 1982, page 206, item 603. The overall length is 20.5 inches (52 cm) and the blade 16 inches (40.5 cm). 
The blade of this dirk is particularly long compared to contemporary dirks. This may be a reaction to the Disarming Acts introduced to the Scottish Highlands after the 1715 Jacobite Rebellion which forbade the carrying and use of swords by Highlanders in many areas. Although seemingly largely ignored at the time, the Acts not being so fiercely imposed as after the failure of the 1745 Rebellion, in the areas where they were enforced, particularly in the towns and boroughs visited by Highlanders, the creation of a longer dirk may have increased its defensive qualities as a primary  rather than a secondary weapon, where the carrying of a sword was not possible.
Shotley Bridge became an important blademaking centre from 1691 on wards after it was founded by a group of immigrant blade smiths from Solingen and continued to produce blades until the 19th century through the Napoleonic War period. It is feasible that due to its location in the north east of England and near the Scottish border, that Shotley Bridge provided blades for some traditional Scottish sword makers.