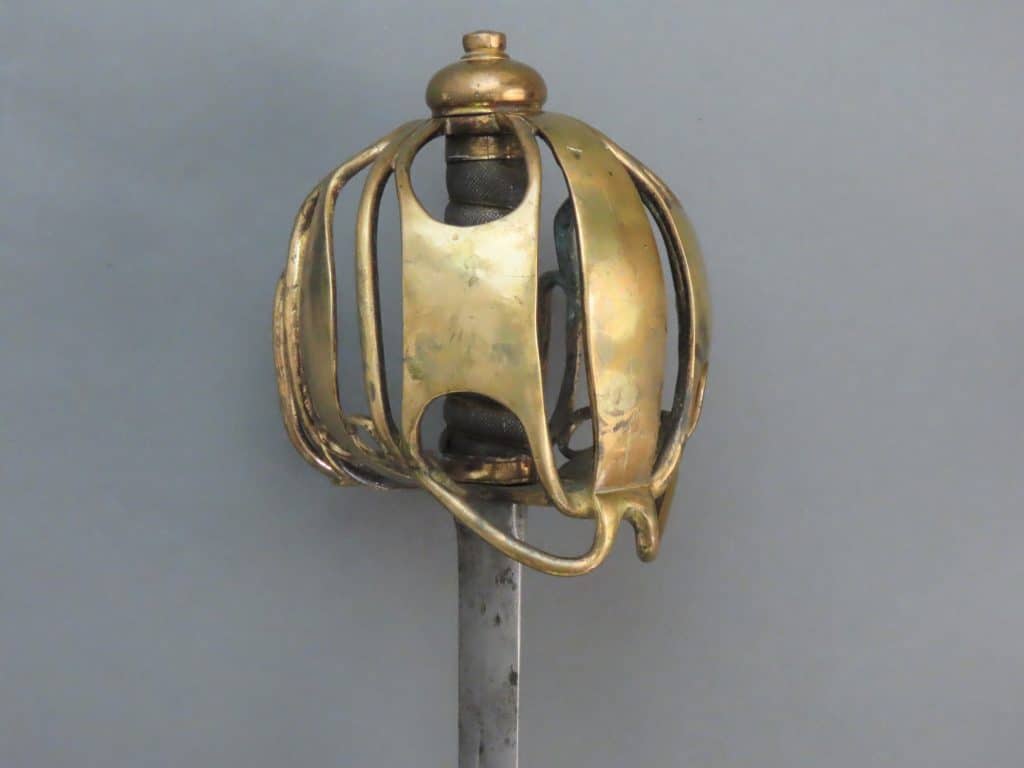 Scottish Highland Infantry Officer's Brass Hilted 1798 Pattern Sword
To enquire about this item
please click here
Price: £2,350
Ref: 127.20
Item Description
A good example of the distinctive brass basket hilted sword introduced for Scottish Infantry officers in Highland Regiments in 1798. It was replaced by the regulation steel  1828 pattern basket hilted sword three decades later. The sword type was used throughout the Napoleonic War period. This example  retains some of its original gilt finish to the hilt.
The basket guard is made of rounded bars and flattened plates in the usual manner with forward loop guards and a scroll guard terminal to the rear quillon. The upper terminals of the guard arms are fixed onto a ring inside which the stem of the mushroom shaped pommel is fixed. The pommel is dome-shaped with a pronounced integral button.
The plain, double-edged, gently tapering blade is 32.25 inches (82 cm) long, of lenticular section and of fine quality. It has a short ricasso 3 inches (7.5 cm) from which a central fuller commences and extends for 8 inches (20 cm) along the middle of the blade on each side. The grip is spirally grooved and covered with shagreen bound with twisted brass wire and mounted with brass ferrules top and bottom.
An example of this sword type is illustrated in John Wallace, Scottish Swords & Dirks, Fig 47, Arms & Armour Press, 1970, which is in the National Museums of Scotland Collection. See also Cyril Mazansky, Boydell Press, 2005, "British Basket-Hilted Swords", pages 131 to 133, for examples housed in various Scottish museums and collections.
Brass is less robust than iron and as a result these swords were more susceptible to damage. The hilts of many surviving published examples have bars missing, are out of shape, and often with repairs. The hilt of this sword retains its original condition and shape. The blade has insignificant patches of blackened pitting and age staining in places and the shagreen on the grip is worn in small parts. The overall length of the sword is 38 inches (96.5 cm).