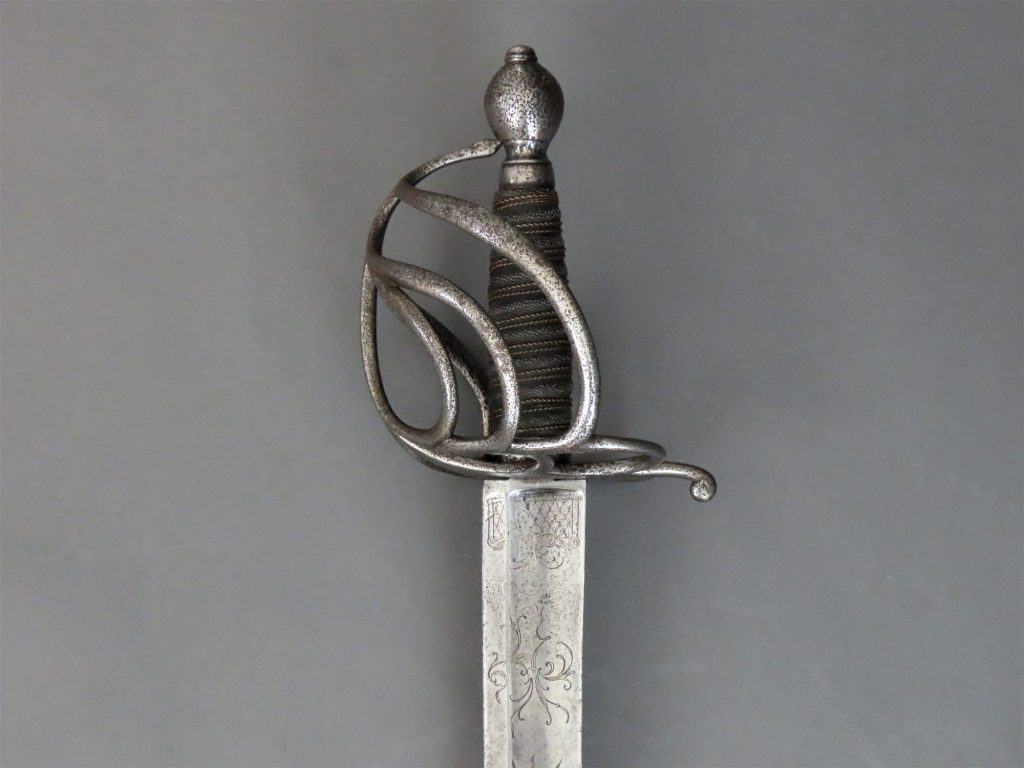 A Hessian or German / British Hybrid Heavy Cavalry Sabre of the late 18th century
To enquire about this item
please click here
Price: £1,850
Ref: 128.20
Item Description
This sword has a type of hilt which is similar in profile to those that eventually standardised to become the British 1788 Pattern Heavy Cavalry Sword. This example retains a tear drop shaped wrist guard and a thumb loop inside the guard which is a feature more common on swords of German type of around the same date. It is feasible therefore that this sabre is a hybrid which belonged to a regiment of Hessian Cavalry recruited to fight with the British during the reign of George III when on service in North America during the period of the American War of Independence.
Some 37,000 German auxiliaries fought with the British in the War. Most were Hessians recruited from  Hesse-Kessel and Hesse-Hanau. But this was not the only source. A significant proportion of this number were from Brunswick,  Ansbach-Bayreuth, Anholt and other locations. As many as 6,000 of these mercenaries are thought to have settled in Maryland, Virginia and Pennsylvania after the War.
The heavy blade measured along the cutting edge is just under 35 inches long (88.5 cm). It has a thick back edge, a short ricasso and a broad fuller which extends to the tip. It is engraved with a lattice pattern near the hilt and two floral displays with stands of arms between on each side.
The hilt has three vertical curved bars on the outside of the guard and one on the inside which joins the cross guard bar next to the thumb loop. These bars join on to the knuckle bow which hooks into an aperture at the base of the ovoid pommel. The floor of the guard forms a heart shape around the cross guard with strengthening bars forged across the middle.  The balluster shaped grip is spirally fluted and covered with shagreen bound with twisted copper wire. Iron ferrules are applied at the top and bottom of the grip.
The sabre is in good solid condition. The grip is all there is original form. The hilt has maintained its shape and is without damage or repairs. The hilt has been cleaned and is evenly pitted all over. The blade shows some patches of age staining but is generally in good condition presumably having been protected by its scabbard when this was present.