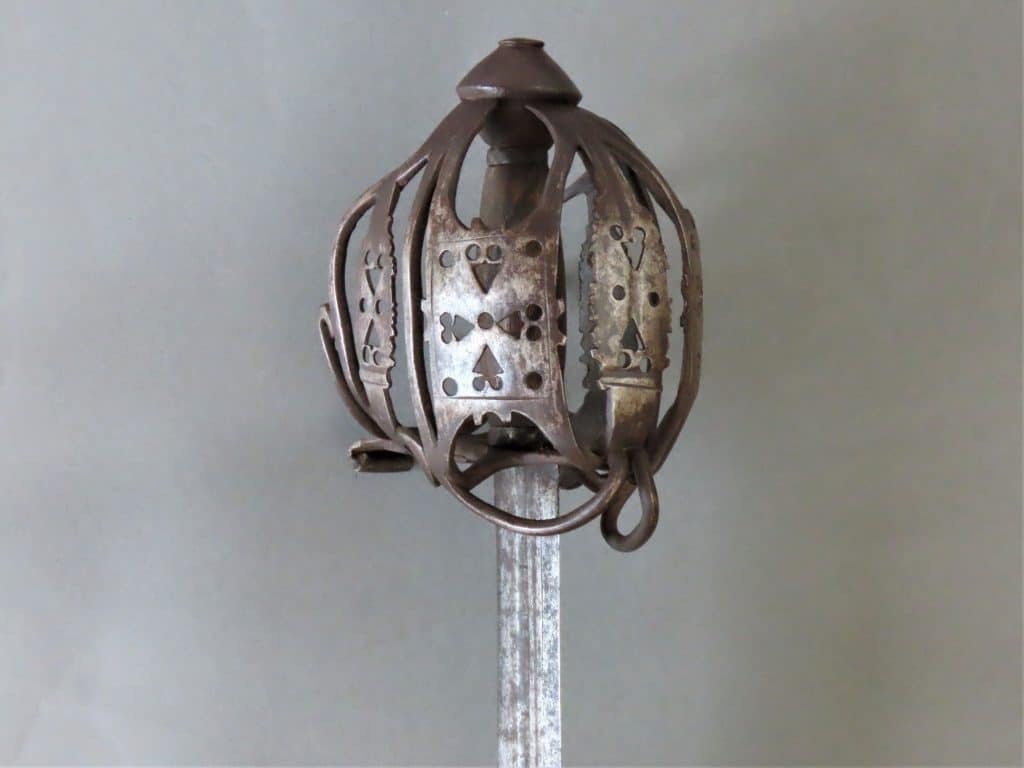 A Scottish Basket Hilted Broad Sword Dating to the early 18th century
To enquire about this item
please click here
Price: £2,700
Ref: 112.12
Item Description
A robust example of an early 18th century Highland Scottish basket hilted broad sword.  The hilt is forged from thick pieces of iron with rounded bars, frets and pierced designs all executed in an artistic and deliberate manner. The robust blade complements the hilt to create a well balanced and attractive sword.
The well proportioned basket guard is forged from thick rounded structural iron bars resulting in a powerful hilt, finely contoured, made by an experienced smith.  The two main frontal guard panels are decorated in typical style, with longitudinal lines incised into the exterior surfaces towards the panel edges. Each has a circle cut into the centre, surrounded by a pattern of triangles pointing inwards to create the shape of a Maltese Cross surrounded by further patterns of pierced circles. The smaller secondary front and side guard panels are pierced in a similar manner and all the panels are finely fretted at the edges.
From the front the aperture of the basket guard can be seen to be  slightly wider on the right hand side indicating that the sword was made for a right handed user. The wider part is designed to accommodate the fingers when the hilt is gripped which take up more volume than the thumb on the opposite side.
The cone-shaped pommel has a flattened integral button on top.  The upper guard arm terminals of the basket fit into a chiseled groove which extends for two thirds of the circumference of the pommel just below its middle. The spirally grooved wooden grip is mounted with faceted iron terminals top and bottom. The scrolled wrist guard is riveted onto the hilt and may be a working life addition or a repair.
The German (most likely Solingen made) double-edged "broad-sword" blade is of fine quality and gently tapers to its tip. The shoulders sit securely in a groove purposely cut underneath the cross guard bar for this purpose. The blade is of lenticular section and has a broad central fuller extending from the hilt for 6.25 inches (16 cm) flanked by narrower fullers and lines emphasised with diamond shaped dots.  A short distance beyond the fuller terminals bold king's head armourer's marks are stamped, three on one side and one on the other. A series of capital letters is stamped in the central fuller, on one side "I V A N I" and "I N T I A" on the other. The blade may be slightly earlier in date than the hilt.
For a similar style hilt, see fig F5b page 101 in Cyril Mazansky, "British Basket-Hilted Swords", The Boydell Press, 2005, for a sword in the Snodgrass Collection. The description points to other similar swords in the Marischal Museum, University of Aberdeen.
The overall length of the sword is 35.5 inches (90 cm) and the blade 30 inches (just over 76 cm).