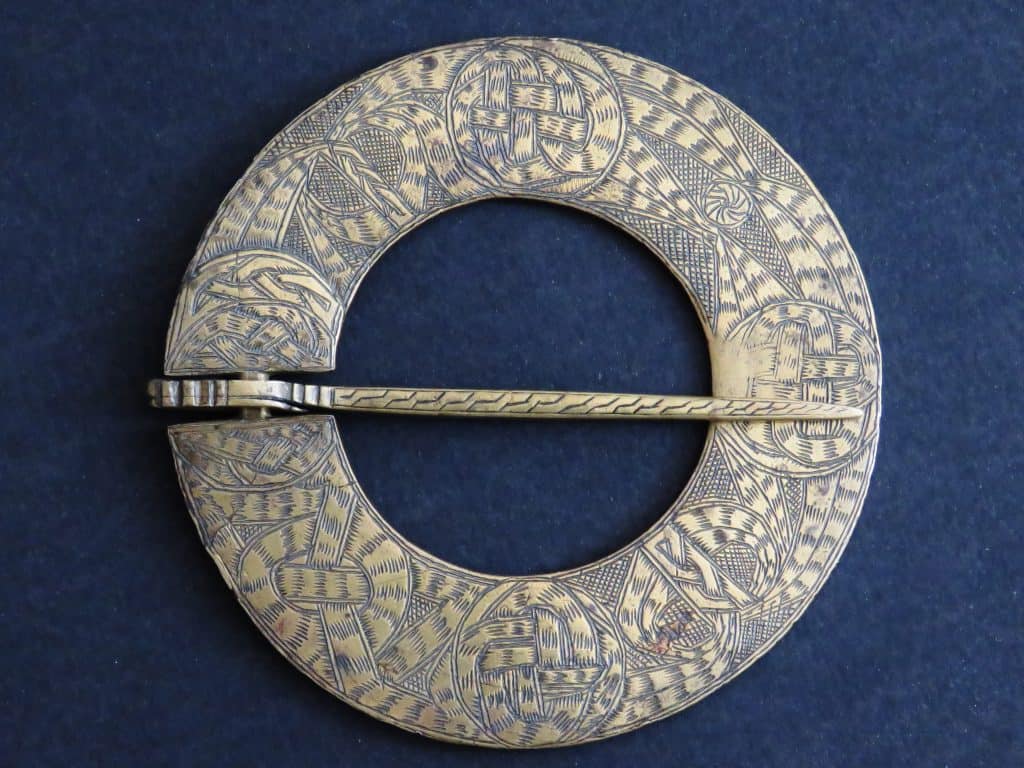 Highland Scottish Engraved Brass Plaid Brooch Dating to the Late 17th / Early 18th Century
To enquire about this item
please click here
Price: £4,350
Ref: 23.14
Item Description
An Exceptional Highland Scottish brass plaid brooch of annular form dating to the late 17th or early 18th century.
The body of the brooch is formed from a single piece of wrought flat brass which is forged together at an overlap to create a circle. This overlap is cut through the middle to create the beam at the place of maximum strength and thickness where most pressure is applied when the brooch is worn. The pin hinge is formed as a pair of jaws with a central aperture which is mounted, closed, then tightened over the beam.
The front of the brooch is exquisitely engraved. Between its outer and inner edges the brooch is cut with perimeter lines. Between these a pattern of four roundels is applied. Three are infilled with Celtic rope and knotwork designs. The fourth, slightly larger than the others, uses the frontal forged overlap as one of its borders and is bisected by the hinge. Inside it is decorated with similar designs to the other roundels.
Between the roundels further, highly detailed, rope and knotwork designs are applied. The pin is decorated with intersecting angular lines of descending size towards the tip. At the beam, decorative shoulders have been applied to the pin hinge. The patterned area underneath the pin point to the front is slightly worn. The wear is caused by friction from when the brooch has been in use over time. The back face of the brooch is left plain and in a more crude hand has the initials "I D" incised into the surface.
The rope and knotwork patterns are similar to the leatherwork tooled designs which appear on some Highland Scottish targes dating to the first half of the 18th century.
Whilst plaid brooches are a common enough feature of Scottish dress dating from Victorian times to today, early 18th century Highland plaid brooches are now rare due to the government imposed proscription of Highland dress for nearly a quarter of a century after the failure of the 1745 Jacobite Rebellion. As a result, plaid brooches of this type form a unique representation of pre-Rebellion Highland culture and art. This is a particularly fine example.
Further depictions of Highland brooches are illustrated in James Drummond's "Ancient Scottish Weapons", George Waterston & Sons, Edinburgh, 1881. The diameter of the brooch is just under 4.5 inches (11 cm).