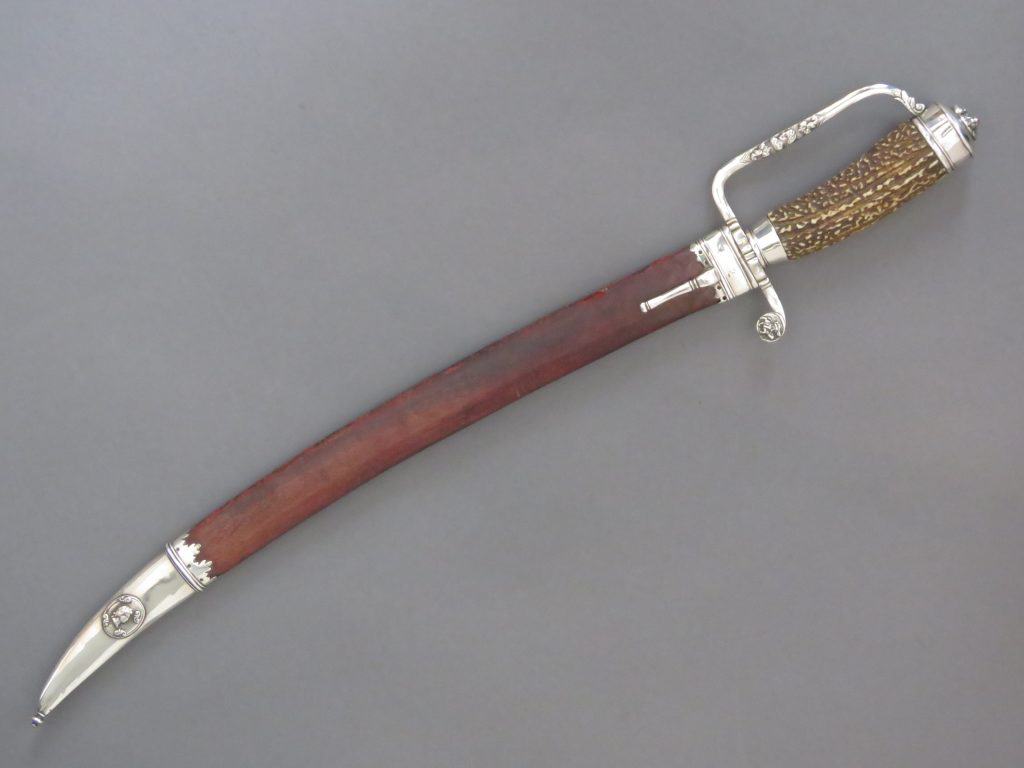 An English Silver Mounted Hanger with Britannia Standard Silver Hallmarks For 1700/1 by Joseph Reason
To enquire about this item
please click here
Price: £2,650
Ref: 095.20
Item Description
An English silver mounted hanger with hallmarks for the year 1700/1 by the silversmith and cutler Joseph Reason of London.
In the 17th and 18th centuries when swords were a popular weapon for gentlemen, hangers were a robust secondary side arm used for self defence when hunting and travelling. They were also used in parts of the British Army and Navy. Hangers appear in some military portraits of the time. Towards the end of their popular use, they were slimmed down and refined for wear as a gentleman's fashion accessory. The high quality and expensive hanger described here was most likely a gentleman's weapon.
The knuckle bow is stamped with Joseph Reason's Britannia Standard maker's mark of "RE" in raised relief inside a heater shaped shield upon a foliate base. The Britannia stamp, lion's head and date stamp lie in a row alongside.
Reason lived in exciting times as London was remodelled after the turbulence of the Civil War period, the Great Plague of 1665 and the Great Fire of 1666. The city was more outward looking, international trade was growing through London port, military success was being achieved abroad and more interest and investment was being expressed in art and culture. Reason was one of the leading craftsmen of his day and the quality of his work represents the style and fashions of late 17th and early 18th century Baroque London.
The hilt of this sword is comprised of a bold faceted quillon block with a  downward facing rear quillon swollen and chased with a depiction of a man on horseback, possibly a Roman soldier,  in raised relief against a punched background on both sides. The knuckle bow is swollen in the middle with another classical image of a Roman emperor inside a panel between foliage in raised relief on each side. It terminates with a  dolphin-shaped terminal hooked into the pommel-cap.
The pommel consists of a plain ribbed ferrule wrapped around the top of the grip beneath the domed pommel cap which has a cherub's mask in raised relief in the middle. The grip is of natural stag antler with a plain ribbed ferrule at its base matching in style that mounted beneath the pommel cap.
The sword retains its original burgundy coloured leather scabbard with its silver locket and frog hoop plus its chape which is applied both sides with a medallion inside which busts of Roman emperors are cast and chased among foliate scrolls against a finely punched background.
The curved blade single edged blade is 18 inches long (45.5 cm). It becomes double edged towards the tip and is deeply struck on both sides at the forte  with a blade smith's mark resembling a male profile bust wearing a cap,
Joseph Reason was a free cutler and hilt maker working in Burleigh Street, The Strand, London. He was born in 1651 in Dorset and after moving to London was indentured with the London cutler Daniel Wilson. He was sworn free of the Cutlers' Company in 1697 by servitude. With the advent of the Higher, or "Britannia", Standard for silver in 1697, smiths were required to record a new punch mark bearing the first two initials of their surnames. As a result, Reason recorded his first known mark of "RE" in the year of the implementation of the Britannia Standard which was used until 1720 when regulations changed and he recorded his second mark consisting of both his initials "IR" ("I" being the early 18th century "J").  He is last recorded in 1727. Whilst the knuckle bow of this sword is fully marked, the pommel, scabbard locket, and the base ferrule to the grip, are also marked "RE".
The hanger is in overall fine condition. The blade has insignificant small patches of light blackened pitting. The silverwork is fine. It is unusual for hanger scabbards to survive in such condition.
For further information on Joseph Reason see Leslie Southwick, "London Silver – Hilted Swords, Their makers, suppliers & allied traders, with directory",  2001, Royal Armouries, page 205 for biography and Fig: 47 for an example of his work.
For further information on Joseph Reason's marks see "London Goldsmiths 1697-1837 Their Marks and Lives" by Arthur G Grimwade, Faber and Faber, 1976.