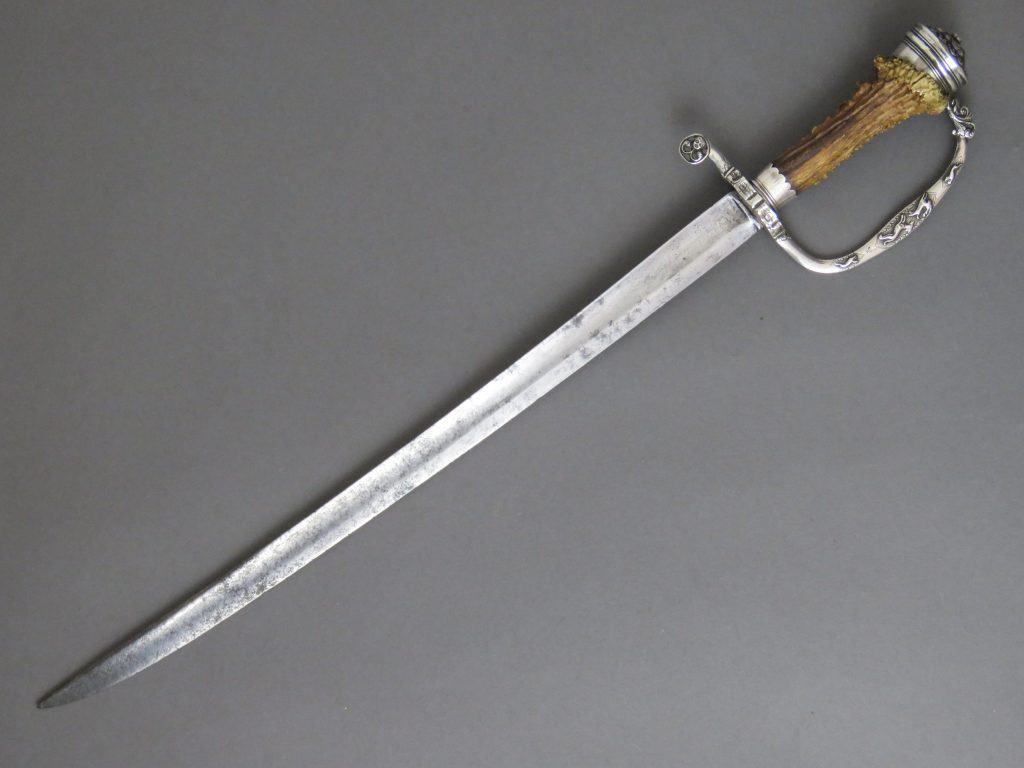 An English Silver Mounted Hanger of the Late 17th Century by Thomas Vicaridge
To enquire about this item
please click here
Price: £1,875
Ref: 092.20
Item Description
An English silver mounted hanger dating to the late 17th century made by the silversmith  and cutler Thomas Vicaridge of London. In the 17th and 18th centuries when swords were a popular weapon for gentlemen, hangers were a robust secondary side arm used for self defense when hunting and travelling. They were also used in parts of the British Army and Navy. Hangers are featured in some military portraits of the time. Towards the end of their popular use, they were slimmed down and refined for wear as a gentleman's fashion accessory. The high quality and expensive hanger described here was most likely a gentleman's weapon.
The knuckle bow is stamped with Thomas Vicaridge's first pre-Britannia  maker's mark of his initials "T V" in raised relief inside a shield, with a crown above, and a pellet below. Vicaridge lived in exciting times as London was remodelled after the turbulence of the Civil War period, the Great Plague of 1665 and the Great Fire of 1666. The city was more outward looking, international trade was growing through London port, military success was being achieved abroad and more interest and investment was being expressed in art and culture. Vicaridge was one of the leading craftsmen of his day and the quality of his work represents the style and fashions of late 17th and early 18th century Baroque London.
The hilt is comprised of a bold faceted quillon block engraved with foliage with a downward facing flattened circular rear quillon pierced and chased with a cherub's head on top of a double scroll. The bold knuckle bow is swollen in the the middle and cast with a scene each side of hunting hounds chasing a stag.
The top of the pommel cap is attractively cast with a cherub's head in the middle of a circular spray of foliage in raised relief. The base of the pommel cap is a ferrule shaped to contour the coronet of the roe buck antler grip.  The tip of the knuckle bow is formed as a beast's head emerging from foliage and its terminal is fixed into an aperture in the pommel front. The grip has a silver ferrule at its base with a scalloped edge.
Thomas Vicaridge completed his apprenticeship to Joseph Jones, a London Cutler, on 25th April 1682 when he was sworn "Free" upon completion of his term of servitude at a well attended meeting at Cutler's Hall in London. Until 1697, along with other silversmiths, Vicaridge used his own mark as described above and stamped onto the sword described here. Two examples of this mark are struck onto a copper plate which is still preserved at Goldsmith's Hall in London. In 1697, with the advent of the Higher, or "Britannia", Standard for silver, smiths were required to record a new punch mark bearing the first two initials of their surnames. As a result, Vicaridge recorded the mark "VI" with a crown above and pellet below inside a shield. This mark was used from 1697 onwards.
Only a few surviving edged weapons signed by this maker are known and all are of high quality. An article by Leslie Southwick published in the Royal Armouries Yearbook (Volume  5 in 2000) discusses Vicaridge's life, his "pre" and "post" Britannia standard marks and illustrates examples of hangers by this maker which are housed in various national collections including the Victoria & Albert Museum and the National Maritime Museum.
The style of grip, pommel and ferrules on this hanger, plus the quillon terminal pierced with a cherub, is common to two hangers by Vicaridge discussed in the paper referred to above, see Fig: 4 for a sword in the Victoria & Albert Museum and Fig: 5 for another in the National Maritime Museum in Greenwich.
The slightly curved single edged blade is 19.5 inches long (just under 50 cm) and the sword is 22.25 inches long overall (56.5 cm). It has a single shallow  fuller running underneath its spine from the hilt to the blade tip.
The sword is in good condition. The hilt has retained its attractive shape and contours. The blade has a light layer of blackened pitting but otherwise is in good condition.
Provenance:
Sotheby's London, Arms Armour and Militaria Sale, 23 April 1985, lot 85
The Per T. Norheim Collection sold at Bonhams London, 29 April 2010, lot 38