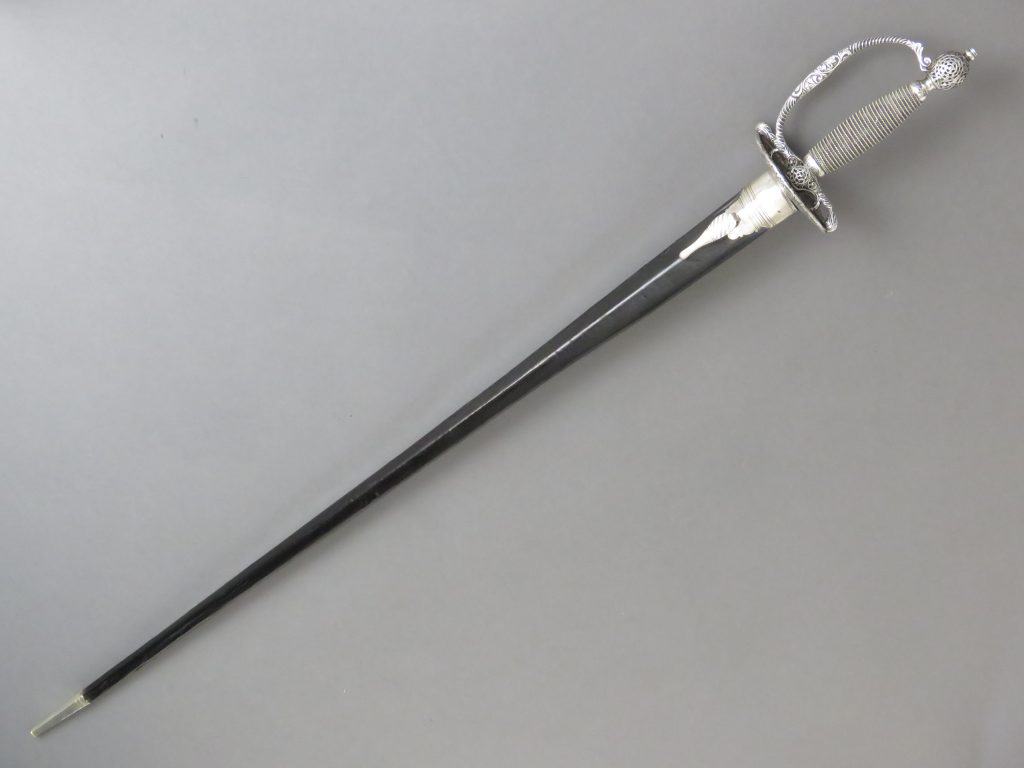 A Fine 18th Century English Silver Hilted Small Sword by Thomas Foster of London
To enquire about this item
please click here
Price: £2,890
Ref: 041.20
Item Description
A fine English silver hilted small sword by Thomas Foster. Surviving examples of the work of this silversmith are rare. He is recorded as working from 1745 to 1780 and was based at various addresses in the City of London.  This hilt is a fine example of his work and consists of a shallow dish guard which is exquisitely pierced and engraved with intricate patterns of scrolls and swirls within a thickened gadrooned rim  with panels of foliage at the outer edges. The pas d'ane rings, knucklebow, front and rear quillons plus the ovoid pommel are engraved and pierced in a similar manner.
The maker's mark of "T F" with a pellet between the letters is stamped inside an oblong chiselled panel which surrounds the aperture where the blade tang protrudes through the underneath of the guard. On the opposite side a lion rampant is also present inside the panel. One of the pas d'ane rings is stamped with the leopard's head of the assay office. The other is stamped with a further lion and an indistinct date stamp.
The tapering, hollow ground, stiff, colichemarde, triangular section blade is  31.5 inches (80 cm) long and the overall length of the sword is over 38 inches (96.5 cm). The grip consists of alternate thicknesses of roped silver wire mounted onto a wooden baluster shaped core with silver cap terminals top and bottom engraved with floral designs. The sword retains its original scabbard formed with a wooden core over which a black leather covering has been wrapped. It retains its  silver mounts.
Silver hilted small swords were fashionable attire for 18th century gentlemen. Mostly worn for effect someone wearing such a sword was also announcing to the world that he was capable of using it. Despite the stylish and delicate appearance of these swords they were formidable duelling weapons. There are no losses or repairs to the hilt which has maintained its original pleasing outline.  It is rare to encounter swords of this type with original scabbards.
For further information see "London Silver-Hilted Swords", their makers, suppliers and allied traders, with directory, by Leslie Southwick, 2001, Royal Armouries, and pages 111-112 for Foster's biography.