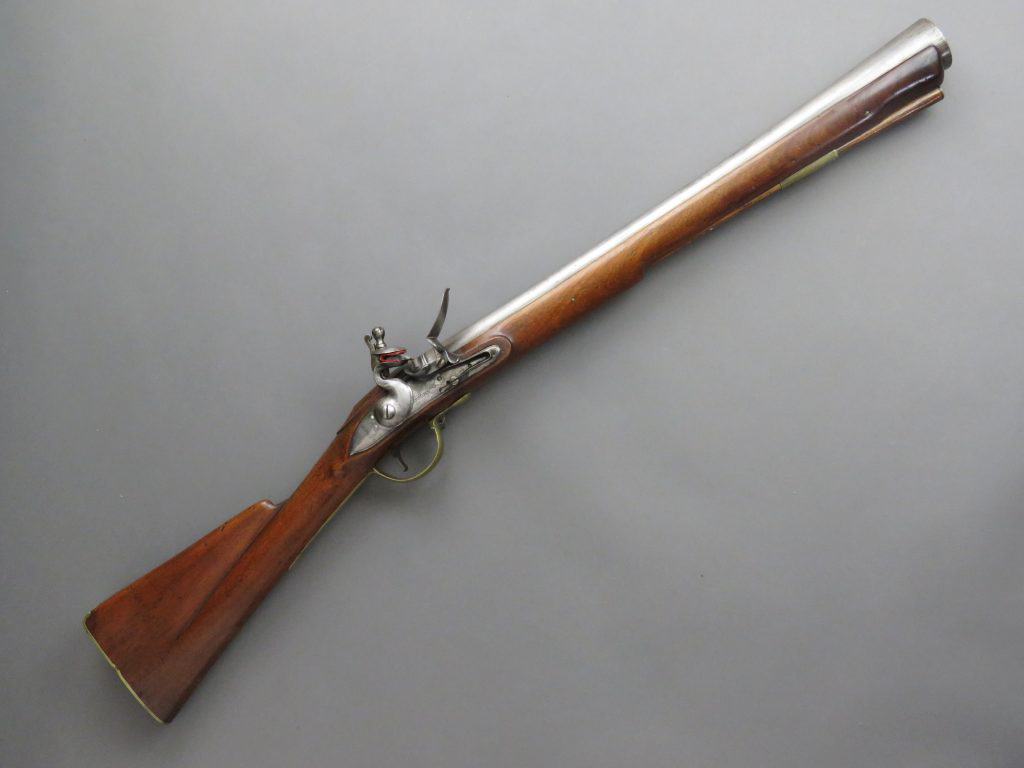 Rare Late 18th Century British Sea Service Musketoon
To enquire about this item
please click here
Price: £6,500
Ref: 080.20
Item Description
A rare flintlock Sea Service Musketoon by Brooks. Musketoons are shorter barrelled versions of muskets and in the late 18th and early 19th centuries they served in the role of a shotgun or a carbine. Being a flexible weapon suitable for close-quarter usage Musketoons were popular with the Royal Navy and were also used in the British Army where some had straight rather than flared muzzles.
This Musketoon is mounted with a heavy steel barrel flared at the muzzle and stamped with view, proof and Ordnance marks at the breech. The lock is engraved with a border of parallel lines all around the edge as is the body of the cock. The tail is engraved with "TOWER" and the space in front of the cock is engraved with the maker's name "BROOKS" and a further Ordnance mark to the right. The full figured walnut stock has brass mounts of regulation type comprising of a trigger guard, side plate, butt plate, ramrod pipe and ramrod tip. The barrel is just under 23 inches (58 cm) long and overall the Musketoon is 39 inches (99 cm) long.
This Musketoon is a heavy example for its dimensions and of larger caliber than contemporary muskets weighing unloaded at just under 11 pounds (just under 5 kilos). Not so practical for the nimble needs of the British Army it was  most effectively used for delivering a heavy load of pistol balls from a relatively stable position in naval engagements. The Musketoon is in fine condition as can be seen in the photographs below.
Provenance: Ex-Warwick Castle Collection Inventory Number FO84 – the collection tag is wired to the trigger guard. The Musketoon was sold at Thomas Del Mar Ltd Auctions in London 26th June 2007 lot 278 for £5,200 (hammer price plus auctioneer's commission).