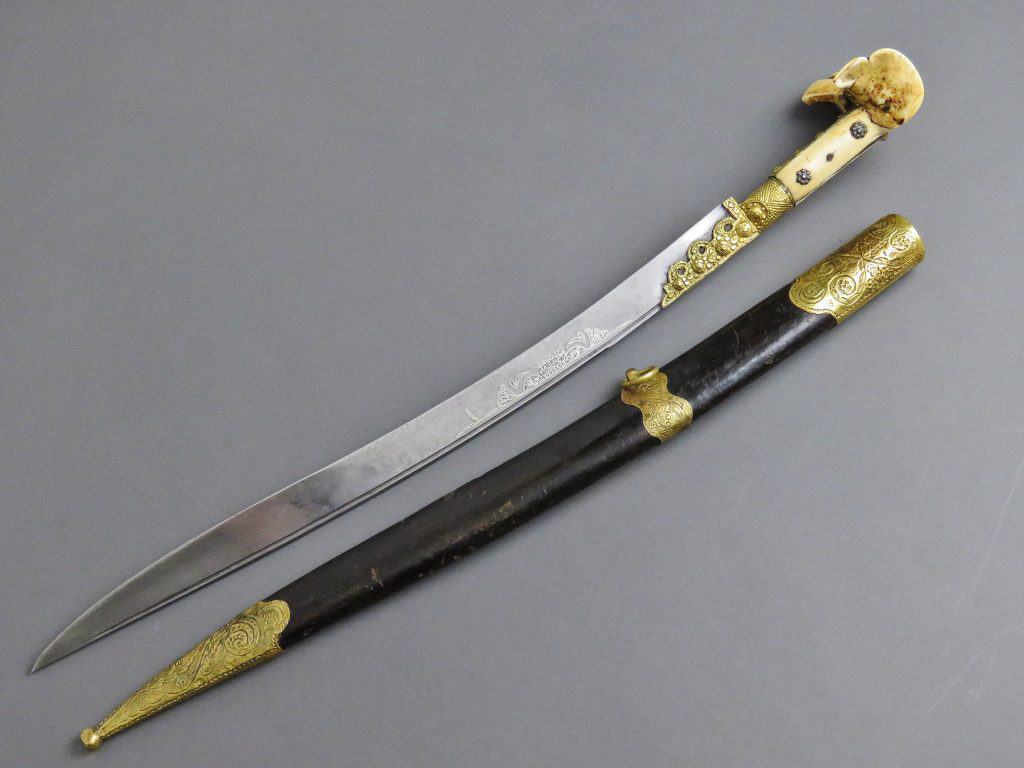 Ottoman Yataghan Dated 1267 AH (1851) with Inscription
To enquire about this item
please click here
Price: £2,350
Ref: 083.20
Item Description
A mid-19th century Ottoman Yataghan of large proportions. The most striking feature about this weapon is the characteristically recurved robust fullered blade which is chiselled and reeded along the back edge. It has a decorative section on each side formed with finely inlaid silver scrolling designs and panels in the middle with inscriptions in the old Ottoman Turkic language similar in style to that which appears on Ottoman ceramics of the same period. One one side the translation reads: "We Seek Intercession of Prophet Mohammed – This Sword Belongs to Mohamed Agha – God Willed it 1267 AH  (1851)" and on the reverse: "I Put My Trust in Allah".
The date corresponds to the time of rising tensions between Russia and an alliance of  the United Kingdom, Sardinia, France and the Ottoman Empire, which eventually led to the Crimean War, fought from October 1853 to February 1856 which Russia lost.
The characteristic hilt has an eared grip formed with two pieces of marine  ivory mounted on either side of the tang secured by rivets. The grip scales are in fine condition without cracks, chips or repairs. A decorative strip formed of brass with mounted surface shapes and scrolls separates the scales. The yataghan retains its robust wooden scabbard which is covered with stitched black leather and attached tooled brass mounts.
The overall length of the Yataghan is 31.5 inches (80 cm) inside its scabbard. The blade is 23.5 inches (60 cm) long. This example is similar to other dated examples held in the Military Museum in Istanbul (see Yatagan, Gozde Yasar, Askeri Muze ve Kultur Sitesi Komutanligi, 2009).