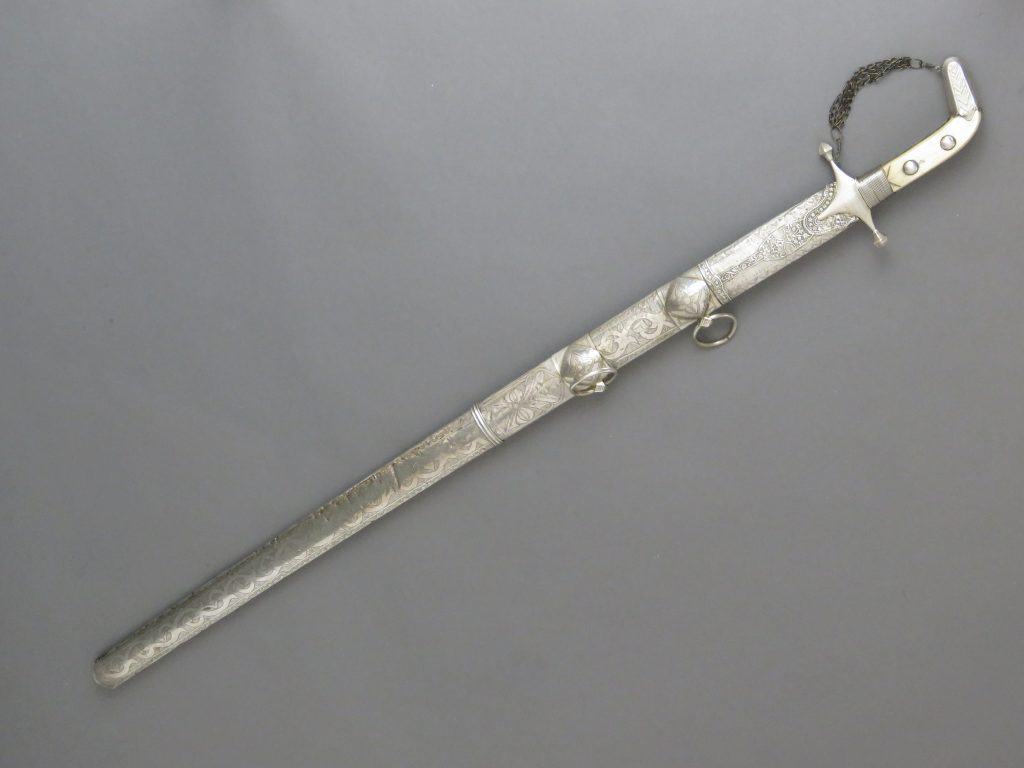 A Fine Late 19th Century Silver Mounted Arabian Saif
To enquire about this item
please click here
Price: £1,250
Ref: 076.20
Item Description
A fine Arabian Saif with its original scabbard. Apart form the blade the metal mounts are all of silver.
The Saif is mounted with a robust slightly curved single-edged blade of usual form with a broad fuller running underneath the spine for four fifths of its length. It still retains a fine cutting edge.
The grip is mounted with bone grip scales secured with two dome-headed  rivets on either side. The plain cross guard of the hilt has downward pointing langets and is secured to the hilt with silver wire wrapped between the cross piece and the base of the grip scales. The quillon terminals are formed as hexagon shaped buds. The pommel is of typical form and tooled with decorative chevrons. A four stranded chain is attached either end to the  pommel and the front quillon. The spaces back and front between the grip scales are applied with rows of fine filigree decoration which has a loss of a very small portion in one place on the back.
The scabbard is of wood covered with decorated silver sheet consisting of floral panels near to the mouthpiece and rows of scrolls below. Two silver bands are mounted with bosses with floral quatrefoil designs both sides which provide support for the suspension loops. The end of the scabbard is reinforced with a silver drag.  
Overall the Saif is in fine condition. The smooth surface of the blade has a little age related staining which is insignificant. The blade length is 33.5 inches (85 cm) and the overall length in the scabbard is 40 inches (102 cm). Note: the mounts are almost certainly of silver but being an object of 19th century Middle Eastern origin these do not carry hallmarks.