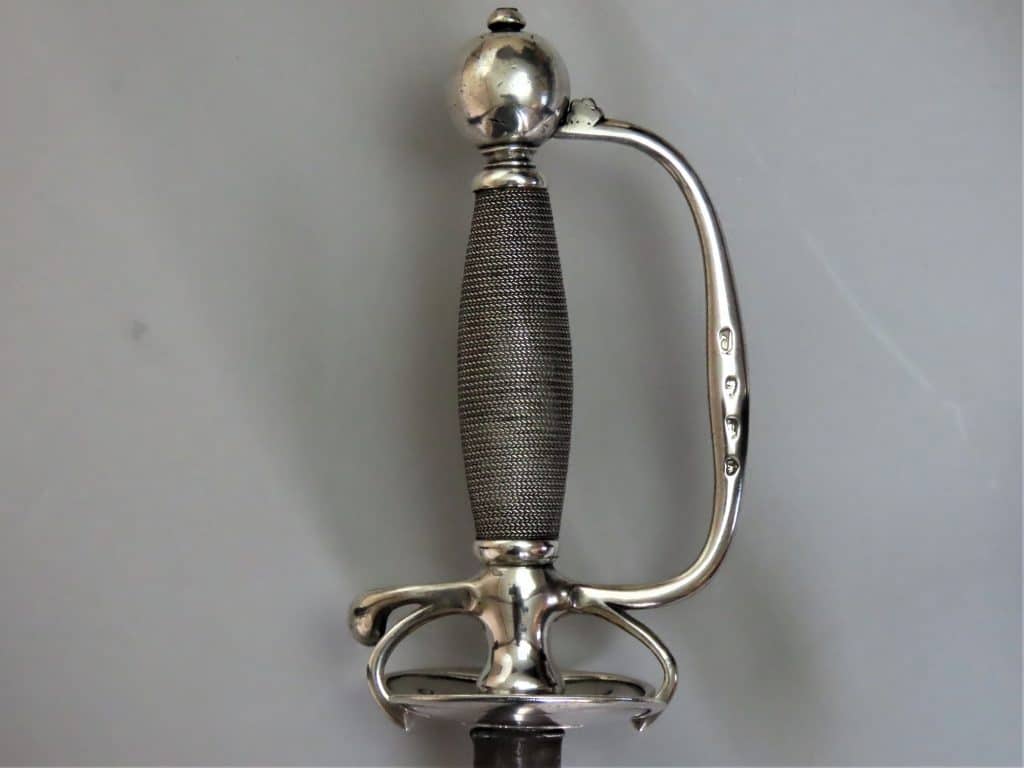 An early 18th century silver hilted small sword with London Britannia Standard hallmarks for 1708/9
To enquire about this item
please click here
Price: £1,500
Ref: AA.084.23
Item Description
An elegant and attractive early 18th century silver hilted small sword stamped with London Britannia Standard hallmarks for 1708/9 and the maker's mark "W I".  The plain stylish hilt is typical of English  silver hilt design of the late 17th and early 18th centuries, comprised of bold simple curves and solid workmanship.  The sword is well balanced in hand.
The hilt consists of a guard formed from two shallow convex shells with reinforced rims, pas d'ane rings, knucklebow, curled tear drop shaped rear quillon,  plus an ovoid pommel with domed button on top and integral ribbed neck beneath. The grip consists of a wooden baluster-shaped core covered with alternately twisted lengths of roped silver wire and with silver rounded washers top and bottom. A rounded ferrule which sits between the base of the ricasso and the cross guard between the shell guards retains elements of the original gilt finish applied to the hilt but now mostly worn away.
The finely forged stiff, slender blade is of complex manufacture, of flattened hexagonal section for most of its length, with a lenticular section of 3.25 inches (just over 8 cm) towards the hilt, and with an octagonal section at the ricasso. The blade is of early form in that it predates the arrival of the hollow ground triangular section blades adopted for small swords by London makers in the early 18th century.  It is decorated with incised attractive scroll designs for the first 8 inches (20 cm) of its length.
A group of four "Britannia" hallmarks are stamped on the knuckle bow and repeated on the inside of the shell guards. These consist of the date stamp, the Britannia mark, a  "Lion's Head Erased", and the maker's mark of the letters "W I" incuse inside a heart with a pellet below. Grimwade records two stamps of silversmiths working at this time with marks of "W I" inside a heart.
One of these, Number  3182, for Charles Williams, unlike the other, has a pellet below, and is the most likely candidate to have made this hilt. He entered his mark in 1697, the commencement date of the "Higher" or "Britannia" Silver Standard, which required a silversmith's stamp to be recorded at Goldsmiths' Hall  consisting of the first two letters of his surname. Although not recorded as working in any particular silversmithing field (Ie cutlery, flatware, hiltmaking etc) he is recorded as a "Large" rather than "Small" worker which incorporated hiltmaking.  Williams is recorded as working at Lamb Alley, Sherborne Lane, from 1697 to 1704, for part of his career (Grimwade page 705). Unfortunately, many records for this time are incomplete or lost so we know nothing yet about the rest of his life.
The sword length overall is 35.5 inches (90 cm) and the blade 29.25 inches (74.25 cm). The sword is in fine condition overall and has maintained its original pleasing profile without damage or repairs.