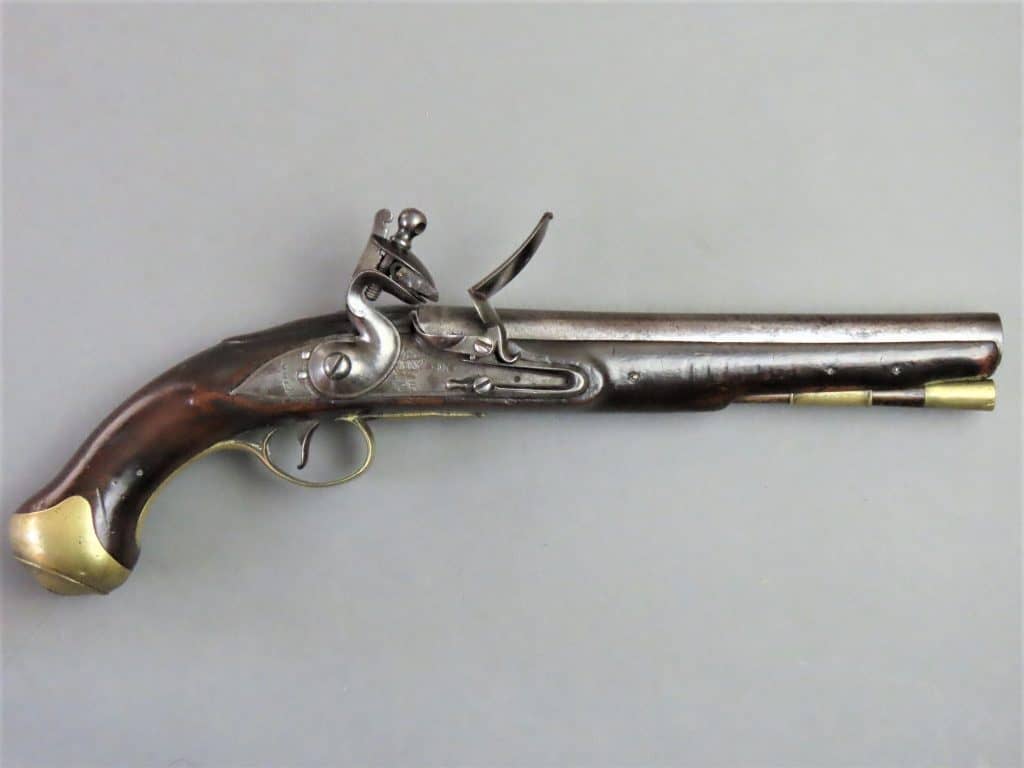 A Scarce British 1794 Pattern Light Dragoon Pistol with a 9 Inch Barrel marked to the 15th Light Dragoons
To enquire about this item
please click here
Price: £2,350
Ref: AA.061.23
Item Description
The 1794 Pattern Light Dragoon Pistol replaced the Royal Forresters 1760 / 78 Dragoon Pistol. Two types of pistol are associated with the "1794". The first is with a 10 inch barrel and the second, the type described here, is with a 9 inch barrel.
The 9 inch barrel type utilises the 1777 round lock. The two decades before 1794 were a period of military austerity and reduced numbers of weapons were produced.  Production of some of these 9 inch barrel pistols may have commenced before 1794, but as the attribution suggests, most were produced from that year. Owing to the introduction of the 1799 Pattern Light Dragoon Pistol which replaced it, the 1794 was in mainstream production for only five years and is a scarce pistol today.
The 16 (0.66 inch) carbine bore barrel is stamped with Ordnance proof marks and is moulded at the breech.  The barrel is also stamped with "XV LD" for the 15th Light Dragoons.
The lock is stamped with a crowned "G R" Cypher on the lockplate, the government ownership mark beneath the pan and the tail is stamped with "TOWER". The brass tipped rammer is housed in a tapered, collared Pratt type pipe. The brass trigger guard, flat side plate and butt cap are of standard form for the pistol type.  The whole is in overall fine original condition
Provenance: This pistol is from the collection of the late Clive Brook who together with Barry Chisnall and Geoff Davies co-authored "British Ordnance Single Shot Pistols", published by Maine Military in 2019. The pistol is featured in page 4-21.  A copy of this publication is included with the sale of this pistol.