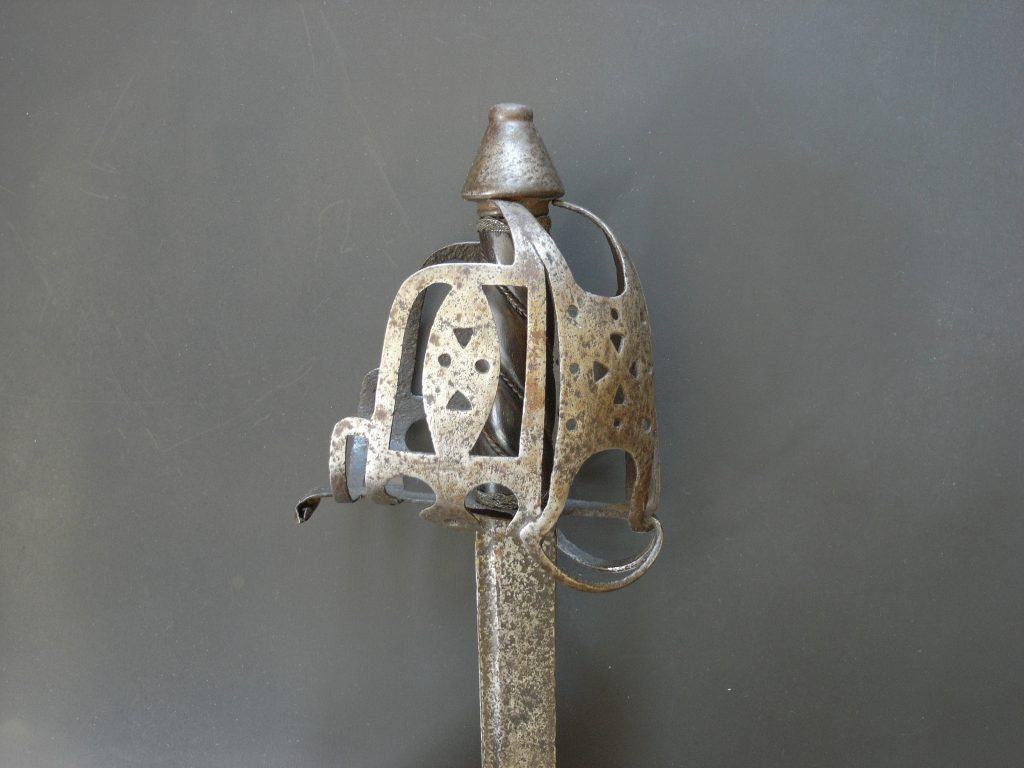 Mid 18th Century Silver Mounted Scottish Dirk
To enquire about this item
please click here
Price: £3,350
Ref: 38.13
Item Description
A fine quality, elegant, Highland Scottish dirk, in good condition, dating to the middle of the 18th century. It is fashioned with a grip made from bog oak with silver mounts and is armed with an earlier cut down broadsword blade marked with armourer's stamps of turbaned moors' heads on either side. The overall length is just over 20 inches (52 cm).
The grip has a rich, deep, dark patina. It is carved with six columns of reeded Celtic interlace. At the front and back, two columns extend side by side from the pommel to the silver ferrule mounted at the base of the grip near the blade. At the sides a shorter column extends from the pommel to the top of each silver mounted shoulder haunch. At the top and bottom spaces between the interlace are carved with studs. This form of columnar interlace is a variation from the more usual horizontal bands of interlace seen on mid-18th century dirks, and was a feature that seems generally to have been adopted by dirk makers only in the middle 50 years of the 18th century, although there are exceptions.
The silver pommel cap protects the top and the edge of the circular pommel top. The blade tang is secured by a silver cross-shaped nut and a silver pommel button which sits on top of this. The ferrule at the base of the grip has been formed with the haunch straps as one piece prior to mounting and is decorated either side with a pair of parallel lines similar to those present on the pommel cap rim.
The blade is 15.75 inches (40 cm) long and just over an inch (2.75 cm) wide. It has a bold ricasso 1.5 inches (3.75 cm) long with a deep fuller cut near to each edge on either side. The blade is of high quality and clearly cut with moors' head marks either side, interspersed on one side with the letters A N D R E A, and F A R A R A on the other. Either side of these letters on each side of the blade the remains of a double fuller can be made out which was probably ground away when the sword blade was converted into a dirk blade. The blade is sharp on both sides and tapers to the point. There is a slight amount of age staining to the blade which does not detract from the elegant lines of this dirk.
The moors' head marks, similar to kings heads marks, are mainly associated with the bladesmiths of Solingen of which the Wundes family are one of the  best known. Each maker produced a head which adopted slight variations to a common theme. The blades are mainly attributed to the 17th century and often appear on early contemporary Scottish basket-hilted swords.