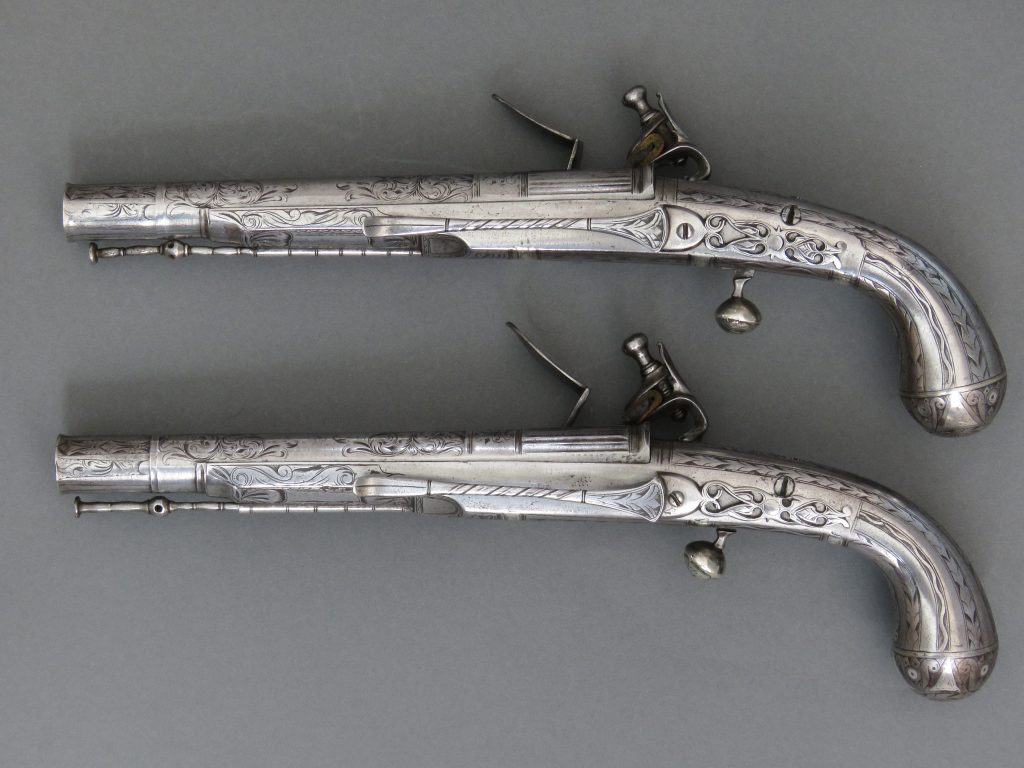 Fine Late 17th Century English Officers' Brass Hilted Sword
To enquire about this item
please click here
Price: £2,350
Ref: 065.18
Item Description
An attractive, nicely proportioned, English officers' broadsword dating to the William & Mary / Queen Anne periods of British history. The hilt consists of a double shell guard and pommel formed from engraved and moulded cast brass parts together with a a knuckle bow supported at its base with two secondary scroll guards. The attractive profile of the hilt is balanced with a sturdy wrist guard terminating in a solid downward facing knop. The sword is mounted with a fine continental heavy duty double-edged blade.
The shell guards have moulded borders with knops to the outer edges and foliage alongside the cross guard on all four sides. To the middle of the four shells a variation of the Stuart Royal Arms is depicted with a closed crown flanked to the left by a lion and a unicorn to the right.
Beneath this is the unmistakable visage of a "Green Man" flanked by robed figures. Beneath this a further, smaller, mask is present which forms the centre of the top of the head of a more grotesque Green Man mask which is camouflaged in the foliage running along the crosspiece towards the middle.
The Green Man is an ancient, mystical, pagan forest deity, representing the growth cycle of spring time and rebirth, which continued into the Christian world to be represented in many churches and other medieval monuments throughout Britain. The Green Man is encountered on other English 17th century weapons, particularly swords of the Civil War periods. Perhaps the idea of rebirth struck a chord with military personnel of the time, the superstitious connection now long forgotten.
The knuckle bow is decorated towards the middle with counter-facing busts and is attached to the pommel with a decorous hook which tucks into an aperture located just beneath the pommel equator. The globular pommel has a flared neck beneath and is decorated each side with a figure beneath a closed crown flanked with figures on horses. The integral pommel button radiates foliage from its centre. The baluster shaped wooden grip is bound with contra-twisted brass wire and mounted with brass Turks Heads top and bottom.
The lenticular section blade tapers slightly to its tip, has a short ricasso and single broad fuller which extends from the hilt for 7 inches (18 cm). The inside of the fuller is stamped with the letter "I" in single and double combinations. Beyond the fuller terminal an anchor-like marks is incised both sides. The blade is 30.5 inches (77.5 cm) long and overall the sword is 37 inches (94 cm) long.