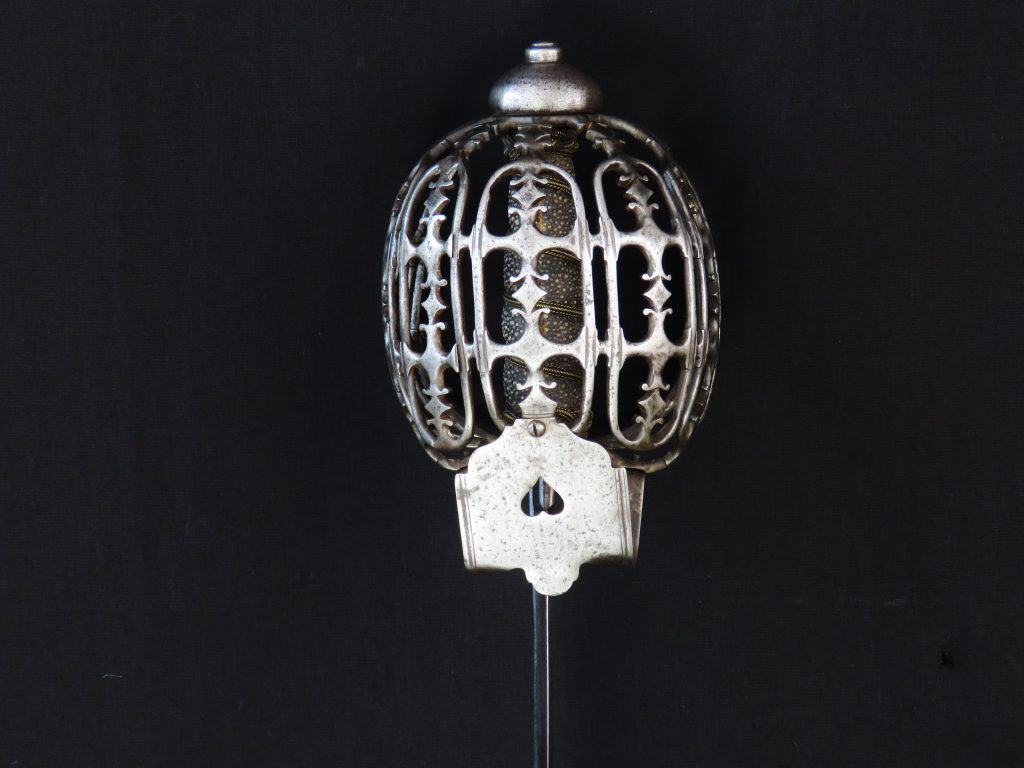 English Silver Hilted Small Sword by John Carman of London hallmarked for 1762/3
To enquire about this item
please click here
Price: £1,600
Ref: 019.18
Item Description
An attractive mid 18th century English silver hilted small sword with hallmarks for London 1761/2. The maker is John Carman (II), one of the foremost makers of silver hilted swords working in London, and whose work is of the highest English standard.
The hilt consists of pas d'ane rings, knucklebow and quillons front and back, plus a shell guard with attractive ribbed and moulded borders, engraved with spiral patterns of grooves with ridges between. The hilt is in fine form without any noticeable dents, bangs or bruises. There are no losses or repairs and the guard has maintained its original pleasing outlines. The grip consists of silver wire (alternating flat  and twisted) spiral binding applied over a baluster shaped wooden core, with silver collars mounted top and bottom.
The hallmarks, maker and date marks are clearly stamped. Underneath the shell guard, the makers mark "I  C", with a pellet between the letters, is stamped on one side of the tang aperture, and the Lion Passant on the other. Further, one of the pas d'ane rings is stamped with the date mark and leopard head standard mark, and the other with the maker's initials and Lion Passant stamp. John Carman (II) was the son of another sword maker of the same name, John Carman (I), and although he had several makers marks recorded throughout his career, the mark on this hilt, with the letters inside a panel with opposite facing flecks, top and bottom, is clearly the mark registered in 1756 (Grimwade mark 1204).
The slender, tapering, hollowed triangular section blade is 32.25 inches (82 cm) long and overall the sword is just over 38.75 inches (98.5 cm) long. The blade is lightly engraved with stands of arms near the hilt, followed by scrolls of foliage further down. The blade is in good condition, with a couple of insignificant stresses one one edge near the hilt
For similar swords by London silver smiths see "London Silver-hilted Swords" by Leslie Southwick, Royal Armouries, 2001, and for further information on the working life of Carman (II) specifically, see pages 63 and 64.