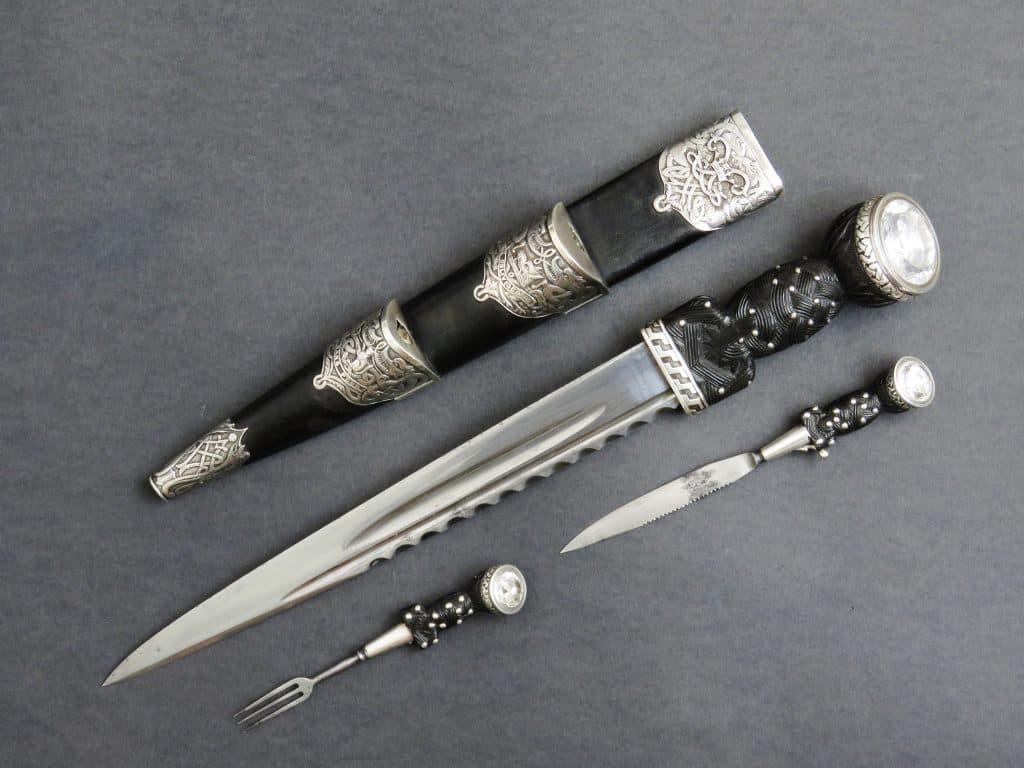 Argyll & Sutherland Highlanders Officers' Dirk dating to the late 19th century
To enquire about this item
please click here
Price: £3,775
Ref: 06.20
Item Description
A very nice officers' dirk made towards the end of the 19th century after 1881 when the 91st Argyllshire Highlanders and the 93rd Sutherland Highlanders merged to become the Argyll & Sutherland Highlanders. The dirk was assembled by R&HB Kirkwood of Edinburgh as indicated by the stamp at the back of the scabbard throat. The mounts are of ornate cast white metal.
The dirk is in fine condition formed with black hard wood grips to the dirk, by-knife and by-fork, all decorated with a cut basket weave pattern with silver coloured studs applied at the intersections. The haunches of the dirk and furniture are pronounced as was the style for A&SH dirks. The openwork pommels are canted and the pommel mounts decorated with Celtic interlace and topped with finely cut transparent multi-faceted silver foil backed crystal stones. The dirk grip has a base ferrule decorated with further Celtic interlace and the bi-knife and bi- fork bases are mounted with plain cones of white metal.
The dirk is housed in a wooden scabbard covered with black leather. The mouthpiece to the front is mounted with a crown over the heads of beasts. At the back, near the suspension mount is the Kirkwood stamp. The bi-knife scabbard mount has serpents heads facing each other, with their long bodies curled as Celtic knots, over a boar's head with the motto "NE OBLIVISCARIS" (Do not forget) underneath. At its back a thistle is incised. The bi-fork scabbard mount has similar serpents facing each other over a cat and the motto "SANS PEUR" (Without fear) underneath. A further thistle is stamped at the back. The blade fits neatly into the scabbard with the base ferrule fitting neatly over the top of the scabbard mouthpiece. The by-knife and fork fit snugly into their pockets.
The dirk blade is 11.5 inches long (29.25 cm) and overall the dirk is just over 16.5 inches (just under 42 cm). The back edge of the blade is scalloped for over half its length. A fuller runs underneath this for three quarters of the blade length and a shorter, wider, shallower fuller is present beneath this. The blade becomes double edged towards the point. The dirk blade is is fine condition as are the bi-fork prongs. The bi-knife blade has a small patch of old pitting on one side and minor age staining towards the tip on the other.
R&HB Kirkwood, (Robert & Henry Bruce Kirkwood) of 66 and 68, Thistle Street, Edinburgh produced dirks and Highland regalia towards the end of the 19th century, and had ceased trading under this name by 1912.