A Very Rare Late 16th Century Lowland Scots or English Basket Hilted Dagger
A very rare example of a Lowland Scots, or possibly English, basket hilted dagger, which forms part of a distinctive group of daggers dating to the late 16th or early 17th century. Its salient and unique characteristics relate both to the form of blade and the design of the basket guard. Claude Blair commented that the dagger type is most likely Lowland Scots in origin, influenced by the Scottish Highlands whilst incorporating some English features.
The broad, robust, leaf-shaped blade tapers markedly to its point. It is of hollow ground, stiff section, with a high medial ridge on either side, capable of thrusting through thick clothing, mail and between plates of armour. The edges are thin and sharp for cutting, marking out the dagger blade as a well designed functional tool of optimal length for both its main uses.
The base of the basket guard is a swollen quillon block from which the long slender guard arms extend horizontally and arch acutely downwards to end with slightly swollen terminals.  Underneath, a tailor made cruciform groove is cut around the tang aperture into which the shoulders of the blade are firmly secured in the Scottish manner.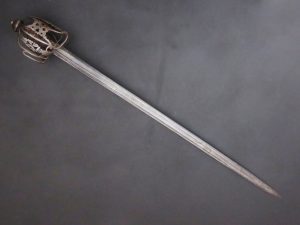 Fig 1: Lowland Scots / Possibly English Basket Hilted Dagger – Front
The basket guard has a single side oval forged onto the block which is filled with a sprung plate pierced with a series of three diamond shaped apertures along its middle in a line flanked by two pierced circles on each of its sides.  The  guard consists of further bars of slender rounded form which emanate from the block. Two extend upwards and outwards in a curved manner from the front sides of the oval rim to converge towards the pommel and terminate in a right-angled lug secured to the pommel with a screw. The space between the bars is filled with subsidiary bars in the form of a saltire, or lozenge shape, with an open middle. The origin of this feature probably lies in the diverging arms joined by a small plate, rather than a saltire, seen on some 16th and early 17th century basket hilts.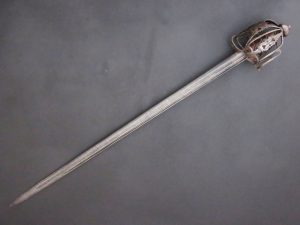 Fig 2: Lowland Scots / Possibly English Basket Hilted Dagger – Reverse
To the right of this assembly a flanking bar extends upwards from the forward quillon in contour with the other two vertical bars to converge with them at the top just below the screw. This gives an asymmetrical appearance, the curvature of the guard being skewed towards the front contact part of the hilt, confirming its design for left hand rather than right hand usage.
The quillons are both equally offset from the blade in parrying manner on the basket side of the hilt.  The pommel is of flattened and squared-off ovoid form with an integral flared pommel button on top and flared ribbed neck beneath. The wooden grip is grooved with a triple spiral and has much of its leather covering still present and is bound with a double strand of contra-twisted wire.
Fig 3: Lowland Scots / Possibly English Basket Hilted Dagger – Hilt Detail – Front
This small group of daggers was comprehensively described by Claude Blair in "The Early Basket-Hilt in Britain" published in "Scottish Weapons & Fortifications 1100 -1800", John Donald Publishers, 1981, pages 153 to 252 (specifically pages 226 to 233). The first, which is most similar to ours (Fig 129 page 228) was once in the collection of Morgan Williams and is now in the York Castle Museum Collection. The only difference between this and our dagger is the presence of a second exterior flanking bar to the left of the inner vertical guard bars, giving a more symmetrical appearance, and the pommel shape, which is a slightly flatter bulb shape. The arrangement of the saltire bars between the inner bars is identical, apart from the presence of two small straps which straddle the  bars above and below the central aperture in Blair's Fig: 129, in a bow tie manner.
A second dagger is described by Blair (Fig 130 page 229),  which at the time  was in the collection of Mr D G Harris. It has a hilt of similar construction to the first two with a basket guard formed from wider bars of flatter section. The quillons lie flat and have widened terminals. The side ring has lost its plate. The guard has no flanking bars and correspondingly the two vertical bars present are wider apart and the space infilled with a Staffordshire Knot. The pommel is of the same form as that mounted on our dagger.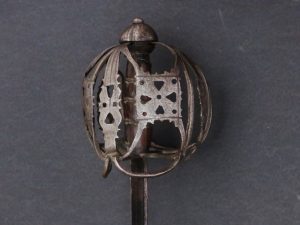 Fig 4: Lowland Scots / Possibly English Basket Hilted Dagger – Hilt Detail – Reverse
This "Staffordshire Knot" dagger closely resembles the third described by Blair (Fig 131 page 230) which is in the Haermuseet in Oslo (Ref: HAO 20230B). This similarly has two curved flanking guard bars infilled with a single, flattened, curved vertical bar with a convex disc half way along. It is mounted with a flattened bun-shaped pommel like the first. The disc is similar in shape and size to the frontal guard plates seen on Scottish Highland "Ribbon" hilted swords with the same horizontal grooves at the junctures between plate and bar above and below, present on the better preserved hilts. This dagger was transferred to Oslo from the Historisk Museum in Bergen in 1964-5. It has no provenance but it is easy to associate its presence in Norway with  Scots mercenaries in the region at the time of Gustavus Adolphus, and particularly with those of the ill-fated Scottish "Sinclair" expedition of 1612.
A further related dagger has a basket hilt formed from bars forged in a manner which resemble the side guards of a particular type of contemporary Lowland Scots or English basket hilted sword. Both have similar pommels formed as flattened solid discs secured with square shaped buttons on top.  The guard arms converge into a crescent which sits securely into a groove cut around the pommel base rather than converging on the pommel to be secured with a screw. A pertinent example of this sword type is illustrated in Blair  (Figs 124-125 page 223) and the dagger (Fig 128 page 226). The similarity is obvious to the degree that Blair observed that given the sword is mounted with a long diamond section blade, although a basket hilted sword, it is in fact a rapier and the dagger is a similarly manufactured companion weapon for the left hand. However, swords of this distinctive hilt type were not always mounted with disc pommels and some were mounted with typically wide broad sword rather than rapier blades, which may or may not have been accompanied with a left-hand dagger.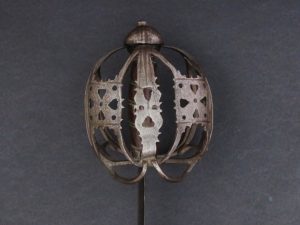 Fig 5: Lowland Scots / Possibly English Basket Hilted Dagger – Hilt Detail From Below
Whilst this small group of daggers is quite distinct and unique, a few other examples show similarities of evolution and should be included. In his first volume of "The Scottish Basket Hilted Sword" (Earlshall Publications, 2016), The Baron of Earlshall illustrates those referred to by Blair mentioned above, plus two others newly classified. The first (Fig 276 page 389), in the National Maritime Museum in Greenwich (Ref: WA 5369) has the typical blade and a hilt so similar to the basket hilted sword hilts referred to above, that it looks like one that has been split in half. The pommel is a replacement and whether it originally had a disc shaped pommel will remain unknown, but it was probably so. Another (Fig: 280 page 395) is a similar hilt to Blair's Fig 131 with two parallel bars replacing the central bar with the disc. Although the blade of this dagger is leaf-shaped with a medial ridge, it is somewhat more slender than its peers.
Blair goes on to describe a detached basket guard of more elaborate form in a private English collection (Fig 132 page 231) which he includes in the group. This has an arrangement of infill bars which form a more stylised saltire between two frontal guard bars. It is different to our dagger and the first Blair describes above in Fig: 129, in that a further vertical flanking bar has been added to the right, and between this and what is now the central bar to the middle, is also infilled with a second arrangement in a similar manner to the first. This gives gives a more exaggerated asymmetrical appearance compared to our dagger and similarly confirms its design to protect the left hand. Earlshall also notes that the bars above and below the saltires are formed to create heart shapes which are common in, but not unique to, Scottish basket hilt designs.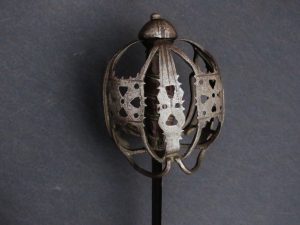 Fig 6: Lowland Scots / Possibly English Basket Hilted Dagger – Hilt Detail From Above
Three other daggers, with typical blades, are also worthy of note. They do not have the fully formed basket guards described in the examples above. The first illustrated by Earlshall (Fig: 277 page 391) and Blair has a flattened bun shaped pommel, side ring and arched quillons. The blade is full of now worn etched decoration including an inscription "In my defence God me defend" (from the first line of a prayer commonly used in Scotland in the early 17th century) and is dated 1593 towards the blade. This dagger is in the British Museum (Ref: 56/7-1/2256). Another sold at C&T Auctions in the UK on 24th April 2018, lot 437. This has a disc shaped pommel, side ring with pierced plate and arched quillons. The grip cover of this example survives and is made from copper wire in a basket weave design, also encountered on some contemporary English swords and rapiers. The blade of this example has a copper inlaid armourers mark similar to those sometimes seen on Lowland Scots dudgeon daggers of the early 17th century and often thought to denote the type of manufacturer stamp used by the workshops of Edinburgh's Canongate. These dudgeon daggers are also known for their complex etched designs and inscriptions like that on the British Museum dagger, some identical, further strengthening the Lowland Scottish connection.
A few other examples of daggers with disc shaped pommels are commented on by both Earlshall and Blair which are in excavated condition and incomplete. A further related dagger with etched leaf-shaped blade, and now illegible inscription, is commented on by Earlshall (Fig: 293 page 421) the distinctive feature being the fluted appearance of the quillons, ring guard and pommel (Royal Armouries (Ref: X-589) and dated 1592 or 1593.
Earlshall includes an interesting late 16th century crudely drawn illustration  (Fig: 280 page 408) which depicts Mary Queen of Scots as a mermaid, with a circular shield below, bearing the Bothwell family crest surrounded by 17 outwardly pointing daggers which have wide, tapering blades with medial ridges, basket hilts and arched quillons. This broadsheet appeared in Edinburgh soon after the murder of Lord Darnley, the husband of Mary Queen of Scots, on the night of 9th/10th February 1576 (Earlshall page 407). Mary is depicted as a mermaid, then a symbol of a prostitute. Bothwell was Mary's lover and it appears that the drawing was circulated in Edinburgh in a broadsheet to implicate Mary in the murder.
If this drawing indicates anything of relevance here, it shows that the dagger type was in existence in "Lowland" Scotland at least by the beginning of the fourth quarter of the 17th century. It is most likely that the dagger type evolved in Scotland and found favor south of the border after King James VI of Scotland assumed the English throne as James I of England in 1603, and some Scottish fashions caught on. This was also most likely the case with Scottish Lowland dudgeon daggers, made in Edinburgh, that became popular with the English gentry in the first quarter of the 17th century.
Mention of basket hilted daggers appears in early 17th century English literature. Nathaniel Field in his "Amends for Ladies" in 1618 describes an object "as flat as a basket-hilted dagger". George Silver writing in 1599 about fencing, mentions "a close hylted dagger" as does another reference by Joseph Swetnam in 1617.  The combination of sword and dagger together is observed in the early 17th century poem "Robin Hood's Birth, Breeding, Valour and Marriage:
"And then Robin got on his basket-hilted sword.
And his dagger on his tother side"
These weapons are therefore part of a very rare group of Lowland Scottish basket-hilted daggers which today consists of less than a dozen extant pieces. Ours is one of the core sub-group of six complete and fully formed examples , which which possess all of the key features and characteristics highlighted by Blair and further commented on by Earlshall. The blade is 12.75 inches (32.5 cm) long and overall the dagger is 18 inches (46 cm).